The recent Air New Zealand order for eight 787s had two twists that caught our attention.  The first was the selection of GE to power these aircraft.  The airline is like British Airways, Qantas and Cathay Pacific – they traditionally favor Rolls-Royce.  Perhaps a colonial thing?  But Rolls-Royce has not covered itself in glory with the 787.  The switch was still a surprise and demonstrates that the 787 and GE are a formidable combination.  Remember American and Hawaiian selecting the 787 and GE?  The combination of Boeing and GE is clearly able to make "an offer you can't refuse".
The second item that caught our attention was this: "The deal also gives the airline, which has previously mentioned a goal of flying Auckland-New York non-stop, the option to switch some aircraft to the longer range 787-9s."  Auckland to New York? That is a seriously long-haul flight. As a Star Alliance member, Air New Zealand is likely to want to serve Newark and connect to United's network for feed and distribution.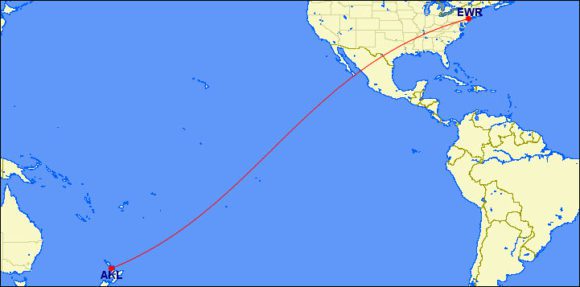 The distance for the route is 8,810 miles and at 500MPH that means a flight of 17.6 hours.  By comparison, the Qantas Sydney to DFW flight using an A380 is 8,578 miles.  The 787-9 has a range of 9,163 miles, so an Auckland to New York flight would utilize 96% of the aircraft's range.  On a technical level, the route can be flown.  But just how much market demand is there?
Stats NZ provides some clues.  As the following chart illustrates, the US is a growing market for New Zealand, currently accounting for about 10% of overseas arrivals.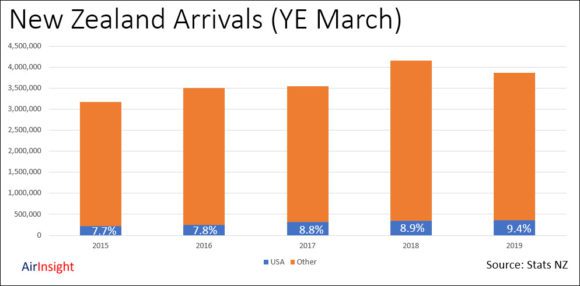 Looking at the purpose of the trip, Stats NZ provides this chart. Purpose of the trip is a guide to the fare class the market is likely to buy.  This market looks like a low fare opportunity.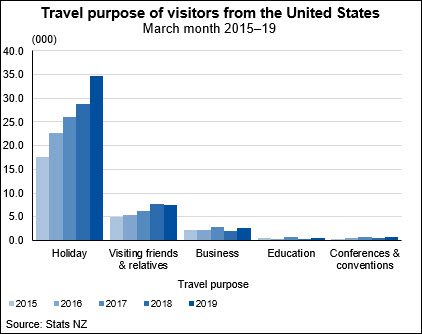 Fare basis is an important consideration.   Qantas has found that its non-stop Perth to London flight has attracted significant business travel with higher fares. That flight takes 21 hours and is perhaps a useful guide.  The Singapore Airlines non-stop flights to the US are also a useful guide – they are also focused on business travelers. These ultra-long flights present a new set of challenges.  Just how many high revenue tickets can Air New Zealand sell to and from Newark?
The next chart is also based on Stats NZ data.  The data shows Newark O&D traffic sources are not growth markets.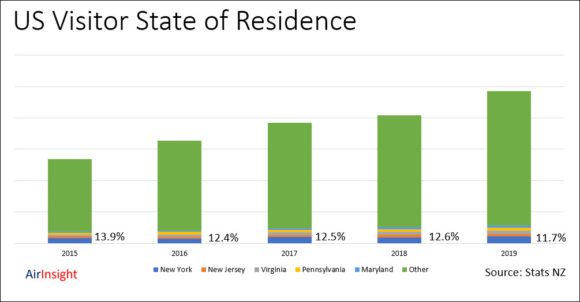 How about the traffic from New Zealand to the US? The most recent public data is from 2017 and can be found here.  New Zealand ranked #29 in terms of inbound traffic to the United States, with 294,119.  From another data set from the same source, we note that 15.5% of the New Zealand origin traffic is business travel.
In summary, combining sources for 2017, there were 33,647 travelers both ways on business – for the entire market.  That means 647 people per week between the United States and New Zealand traveling on business.  Maybe the market will grow to 1,000 per week by the time Air New Zealand wants to start its service.  It still looks very thin in terms of revenue and rather thick in terms of risk.
Unless there is something special in the Air New Zealand arsenal, a non-stop flight from Auckland to New York looks like a stretch in more ways than just the distance.  What are we missing?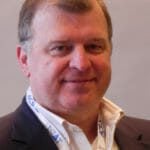 Co-Founder AirInsight. My previous life includes stints at Shell South Africa, CIC Research, and PA Consulting. Got bitten by the aviation bug and ended up an Avgeek. Then the data bug got me, making me a curious Avgeek seeking data-driven logic. Also, I appreciate conversations with smart people from whom I learn so much. Summary: I am very fortunate to work with and converse with great people.