Airbus and Air Canada have both announced investments in a Canadian firm that is developing direct air carbon capture and storage (DACCS) technology. Carbon capture is seen by both the airframer and the airline as a means to decarbonize aviation. Airbus and Air Canada invest in Canadian carbon capture plant.
The investment is in Carbon Engineering (CE), a company based in Squamish (British Columbia). Air Canada is investing C$6.75 million in CE while Airbus hasn't disclosed the exact amount. CE will use the money to develop its CE Innovation Center, which it says is the largest direct air capture research and development facility in the world.   
In the DAC process, air is pulled into the system using big fans. It is then processed using green electricity and water, in which the carbon dioxide is taken out. This can be stored or used to produce synthetic crude, which can be further processed to make gasoline, diesel, and sustainable aviation fuel (SAF), which is seen as the short and medium-term solution to decarbonize aviation. CE says that its plants can be built to capture millions of tons of CO2 each year. CEO Daniel Friedmann says that CE's DAC technology "provides a scalable, affordable solution to help decarbonize aviation."
Airbus has been interested in DACCS for some time. In March, it announced an agreement with US firm 1PointFive to purchase 400.000 tons of carbon removal credits using CE's facilities. The agreement spans a period of four years, with 100.000 tons purchased each year. The agreement was followed by a Letter of Intent at this year's Farnborough Airshow. Airbus and seven airlines and airline groups will explore opportunities for a future supply of carbon removal credits from direct air carbon capture technology.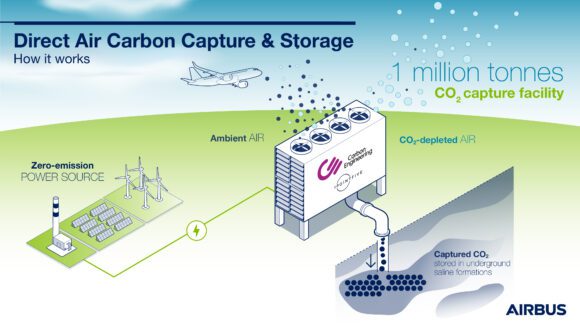 Air Canada, Air France-KLM, International Airlines Group (IAG), easyJet, Lufthansa, LATAM Airlines Group, and Virgin Atlantic committed to engaging in negotiations on the possible pre-purchase of verified and durable carbon removal credits starting in 2025 through to 2028. The credits will be issued by 1PointFive.
Air Canada is now the first airline to confirm its commitment. As part of Canada's Climate Action Plan, the carrier earlier committed to achieving net-zero emissions by 2050 and is investing C$50 million in new technologies through a dedicated fund.
In a media statement, CEO Michael Rousseau says: "We remain focused on seeking innovative, long-term, sustainable GHG emissions reduction solutions for aviation, and carbon capture is one we have outlined in our strategy to achieving net-zero GHG emissions by 2050. Last year, we became the first Canadian airline to sign an MOU with CE to explore carbon capture scalability and other initiatives for our industry. We are proud to invest in CE to further advance new, transformational technologies towards carbon removal commercially."
Airbus Vice President of the ZEROe Ecosystem project, Karine Guenan, expressed similar words: "We are proud to be investing in Carbon Engineering, reaffirming our commitment to the use of direct air carbon capture as a two-fold solution for the decarbonization of the aviation industry."
Although not a partner in this project, United Airlines' Chief Sustainability Officer, Lauren Riley, recently expressed her support for carbon capture technology as a significant way to decarbonize aviation: "The technology is recent, the economics are terrible, but we are taking steps in addressing those. Here in the US, with the climate policy that came with the Inflation Reduction Act, we are seeing that the economics are beginning to pivot a little bit. That's a really, really step forward."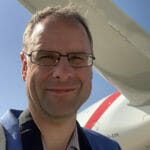 Active as a journalist since 1987, with a background in newspapers, magazines, and a regional news station, Richard has been covering commercial aviation on a freelance basis since late 2016.
Richard is contributing to AirInsight since December 2018. He also writes for Airliner World, Aviation News, Piloot & Vliegtuig, and Luchtvaartnieuws Magazine. Twitter: @rschuur_aero.