Under the circumstances of a most difficult year, Airbus has succeeded in delivering 566 commercial aircraft to airlines in 2020. It is of course a far cry from the record 863 from 2019 but is impressive as most airlines (and lessors) were reluctant to take deliveries amidst the Covid-19 crisis and resulting slump in air travel. The European airframer recorded 268 net orders and 115 cancelations. Last week, Airinsight calculated the number of deliveries as 558 but 566 is the official one coming from Airbus itself on January 8.
Airbus has a history of back-loaded deliveries, meaning there has been a rush in December up to the final days of the year. Issues with the Pratt & Whitney Geared Turbofans and CFM LEAPs have played a role in recent years, as have production issues on the A321neo line in Hamburg. They happened as Airbus was gradually increasing the rate up to 63 A320neo-family aircraft this Spring. The Covid crisis has all changed this, of course, with the A320neo-line now down to rate 40 per month.
December 2020 wasn't different as far as back-loading was concerned, with Airbus delivering 89 aircraft during the month. Until then, October has been the busiest month with 72 deliveries. April saw the lowest number with just fourteen deliveries amidst the closure of factories and assembly plants across the world. Yet, at 365 recorded by the end of June, Airbus made the most deliveries in the first half of the year. The second half only saw 201. To put the number of 2020 into perspective, 566 deliveries fit in just between 2012 (588) and 2011 (534). That's when Airbus recorded 914 and 1.419 orders respectively.
Many of those were coming from the inventory of parked aircraft that were produced during 2020 but undelivered. CEO Guillaume Faury didn't specify the numbers of aircraft that remained parked, saying he didn't have the exact numbers. Of all deliveries, 150 were so-called e-deliveries in which the customer took the aircraft after all data on test flights was shared digitally.
In total, 87 customers took delivery of Airbus aircraft. Most airliners (25.8 percent) were delivered to Asia-Pacific, of which 18 percent to China. Europe was next at 20.8 percent, followed by North America at 15.2 percent, of which almost 13 percent to the US. This despite tariffs imposed by the Trump-administration on European-built Airbus. Africa and the Middle East accommodated for 6.8 percent of all deliveries, with Latin America in the last position at 2.1 percent.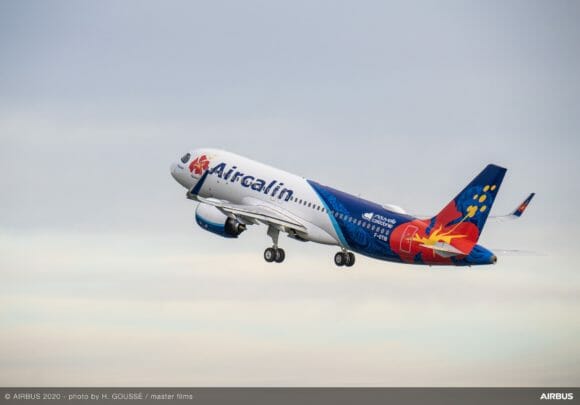 Airbus delivered 253 A320neo's, out of 566 aircraft in total in 2020. This included the first for Air Calin. (Airbus)
Deliveries by type:
Of all deliveries in 2020, the A320neo accounts for almost half of them: 253. Another 27 were delivered in December. Total deliveries for the A321neo (including the LR) ended at 178, of which 39 in December. With most aircraft having a manufacturing serial number (MSN) in the 10.000-series, this indicates that the A321neo's have been assembled recently and have not come from previously undelivered and stored aircraft. Faury confirmed that the production issues that plagued the A321neo production in Hamburg have been overcome by the end of 2019 and been broadly managed by early 2020 and the rest of the year.
While the first A319neo still has to be delivered (she was first certified in December 2018), the older generation type has almost ended its life cycle. Only three A319ceo's, three A320ceo's, and nine A321ceo's have been delivered in 2020.
Airbus delivered the first A220-300 to JetBlue on December 31, but another five were delivered during the month, including two to airBaltic on December 11. The Mirabel and Mobile plants delivered ten A220-100s and 28 -300s.
On the wide-body side, the A350 unsurprisingly produced the best numbers as the most popular type within the long-haul family (if you exclude the A321XLR…). Toulouse delivered 45 A350-900s, of which six in December. The longer A350-1000 ended the year with fourteen deliveries with two in December. The final delivery of the year was a Qatar Airways A350-1000, arriving in Doha with sixteen minutes of 2020 to go.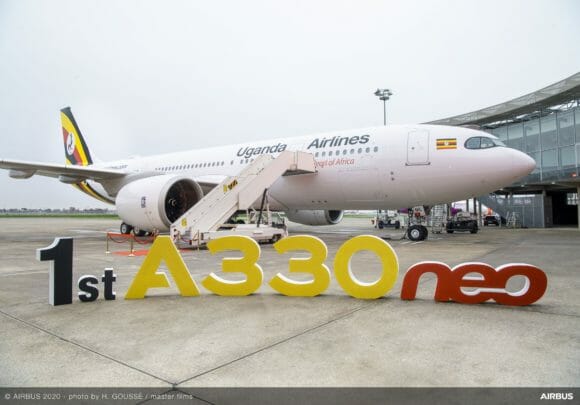 Uganda Airlines took delivery of its first A330-800 in December. (Airbus)
The A330-900 reached ten deliveries, with the A330-800 three. This includes the first aircraft to Uganda Airways, delivered on December 21. Five A330-200s left the factory, all for military purposes, while Aer Lingus took the sole A330-300 delivery of the year.
For most of the year, the A380 was absent from the delivery list. Both Emirates and All Nippon Airways deferred deliveries to a later date. Emirates took delivery of three double-deckers in December. Officially, ANA took its third and final orange sea turtle-liveried Ka La on paper on October 30 but is expected to receive the aircraft physically only in late March or early April.
Gross orders: 383
Airbus ended the year with 383 gross orders from eighteen customers, 115 cancelations (31 in December), resulting in 268 net orders. While the A220 won 64 orders it also lost 34, but this won't have an effect yet on the production rates in Mirabel and Mobile. The A320neo-family won 296 orders against 22 cancelations.
Chief Commercial Officer Christian Scherer is most happy with orders for 37 A321XLRs, which is "uniquely placed for airlines to recover. It has the right size, the right economics, offering all the flexibility to our customers on longer-haul routes." During the year, Airbus has continued the development of the Extra Long Range which is on track for a 2023 entry into service.
The A330-200F tanker lost three orders in December, the -300 six, and the -900 two to bring the year's total to seven cancelations. December wasn't kind to the A350-900, with fifteen additional cancelations from AirAsiaX (10), Turkish Airlines (2), CIT Leasing (3), while data also mention Hong Kong Airlines (2). During the year, the A350 saw 26 cancelations while it won 21 orders.
Still, Scherer is happy about the low level of cancelations: "This underlines we managed the crisis well together with all our customers. They are waiting for air travel to return and they want to make sure they have secured slots for new and efficient aircraft. They need these aircraft to fly out of the crisis. (…) Striking big orders is absolutely not the objective last year. Our priority is maintaining production rates and keep the supply chain affloat." Airbus is cautious with its projections of a full recovery of the air travel industry, although Faury is not expecting a return to 2019 levels until somewhere "between 2023 and 2025. It is a broad margin, but it is very difficult right now to specify it more exactly."
No unallocated aircraft to be built this year
In April, Airbus said it would reduce production for 2020 by forty percent. The actual number of deliveries has been 34 percent lower compared to 2019. The airframer says it has successfully converged demand and delivery rates. While numerous customers have deferred deliveries to beyond 2022 and further, Airbus isn't building any whitetails in 2021: "There are no gaps for unallocated aircraft this year", said Scherer. At the moment, the airframer is overstaffed despite an ongoing restructuring that includes the reduction of 15.000 jobs. "We are happy with our 2020 performance, but we aren't out of the woods. We remain cautiously optimistic about the future. People and goods want and need to fly", said Scherer, but Faury added that there still is a high level of volatility this year.
If recovery becomes evident, it will show around the middle of the year. Production rates will remain stable for the first half of the year, but Faury repeated that Airbus is making sure it is prepared for a modest ramp-up of the single-aisle model range in the second half of 2021 before bigger steps in 2022 and 2023. Airbus will report its 2020 financial results on February 18.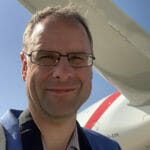 Active as a journalist since 1987, with a background in newspapers, magazines, and a regional news station, Richard has been covering commercial aviation on a freelance basis since late 2016.
Richard is contributing to AirInsight since December 2018. He also writes for Airliner World, Aviation News, Piloot & Vliegtuig, and Luchtvaartnieuws Magazine. Twitter: @rschuur_aero.