This presentation was by Marc Fontaine, Head of Digital Transformation Office and Alain Tropis Head of Digital Design.
The digitization of commercial aerospace has been talked about endlessly.  Certainly before we even had connectivity.  And it is connectivity that makes this work best.  Which is why Marc mentions that Airbus has become a telecoms business.  The growth in data flow from aircraft to interested parties is staggering.  See the slide that Marc uses just to demonstrate their own experience.
It is fascinating to see how quickly airlines have overcome a natural concern about data sharing. After all, this is a highly competitive industry. Value from shared data has trumped myopia.  Airbus points out there are literally billions of dollars in savings from unlocking operational data for the OEM and its customers.  Airlines have quickly been able to move from a concept of "data ownership" to "right of use".  Which is not something one might have expected.  Note lessors get little mention in the flow.
Another intriguing item: Airbus sees value from this data flow in its ability to offer performance guarantees.  Given the airline industry aversion to risk, this is highly valuable. Especially when you consider that the single aisle market is now a commodity.  Being able to offer a performance guarantee has to be worth something – whether to win a deal or squeeze more money from a deal.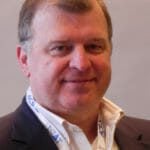 Co-Founder AirInsight. My previous life includes stints at Shell South Africa, CIC Research, and PA Consulting. Got bitten by the aviation bug and ended up an Avgeek. Then the data bug got me, making me a curious Avgeek seeking data-driven logic. Also, I appreciate conversations with smart people from whom I learn so much. Summary: I am very fortunate to work with and converse with great people.