The presentation comes from Grazia Viitadini CTO and Jean-Brice Dumont EVP Engineering.  As you watch the video focus on the amazing ideas they are sharing.  This may be by far the most interesting so far.
From the previous presentations we heard about Skywise.  But here we see where that leads.  The reference of Moore's law speaks volumes about where aerospace is headed.  Quantum computing will be needed to cope with the data flow to come.  But as always in aerospace, the trade-offs continue – we are looking at eco vs technology.  Yet that does not means economic trade-offs are outdated.  Note the focus on hybrid power sources and interest in electricity.
Airbus, rightly, continues to put safety first.  Fortunately the technology impact should enable this.  Airbus' DDMS loops are going to grow shorter as learning speeds up.  Airbus also announced here that they are going to collaborate with SAS on hybrid and electric aircraft research.
Later on in the video we learn about a strange looking boundary layer solution to improve the economics and power of future aircraft. More currently Airbus talked about their Blade test-bed.  This was followed with a demo (video) of Albatross with it flexible wingtips.
Airbus is not limiting its focus to aircraft. There is also a focus on ATC they talk about and there is an intriguing image of a single pilot sitting in a glass domed nose with the inside of the dome showing HUD-like features.
Speaking of which Airbus showed off their involvement in the America's Cup and urban mobility.
Once again, the new event approach generates much longer videos. This one is over 90 minutes.  But, as before, there are gems to be found by going through it.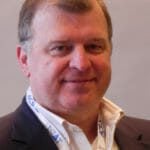 Co-Founder AirInsight. My previous life includes stints at Shell South Africa, CIC Research, and PA Consulting. Got bitten by the aviation bug and ended up an Avgeek. Then the data bug got me, making me a curious Avgeek seeking data-driven logic. Also, I appreciate conversations with smart people from whom I learn so much. Summary: I am very fortunate to work with and converse with great people.