Airbus and SAS together will study the infrastructure requirements needed for operating hybrid and full-electric aircraft. A Memorandum of Understanding was announced on May 20 in Toulouse. It covers June until late 2020.
Contrary to what the press release picture suggests there is no electric Airbus available soon, nor will SAS support a full-electric design the way EasyJet is doing.
The partnership involves a joint research project where SAS and Airbus will work together to build knowledge of the opportunities and challenges regarding operations and infrastructure linked to large scale introduction of hybrid and electric aircraft in commercial traffic.
The projects include five work packages, studying the impact of ground infrastructure and charging on the range, resources, time and availability at airports. Airbus and SAS will cover the entire aircraft operations to see how they should transition to sustainable energy.
SAS has high expectations of the studies: "If this becomes a reality, it will revolutionize emissions", says CEO Rickard Gustafson.
On the second day of its Innovation Days, Airbus explained that it is progressing well with its E-Fan X hybrid study developed with Siemens and Rolls-Royce, although a first test flight of the BAe-146 testbed is still off until 2021.
Explaining the huge technological task ahead before it is possible to fly fully electric the same way as done today, CTO Grazia Vittadini said an A320 with current generation batteries would fly only one-fifth of its current range with half the payload.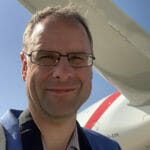 Active as a journalist since 1987, with a background in newspapers, magazines, and a regional news station, Richard has been covering commercial aviation on a freelance basis since late 2016.
Richard is contributing to AirInsight since December 2018. He also writes for Airliner World, Aviation News, Piloot & Vliegtuig, and Luchtvaartnieuws Magazine. Twitter: @rschuur_aero.