Airbus confirmed earlier media reports that 2019 has been a record year on deliveries, announcing on January 10 that 863 new aircraft have been delivered over the year. This compares to 800 flat in 2018. Repeating the previous year's trends of back-loaded deliveries, the European airframer sent out a record 138 aircraft out of its factories just in December.
Most deliveries were A320-family aircraft: 642 versus 626 the previous year. The A320neo-family has now clearly outclassed the ceo at 551 versus 386 in 2018. Of the 551 neo's, 168 are A321neo's, reflecting the troubled production of the Airbus Cabin Flex-version in Hamburg that has plagued the program all year.
In its first full year as Airbus-product, the A220 saw a steep rise in deliveries from 20 in 2018 to 48 last year, all from the Mirabel plant. Of these, 23 are -300s. After a slow start without any deliveries in January, production reached a more mature rate in only the last couple of months of the year.
The A350 cleared 100 deliveries in a single year by reaching 112, up from 93. Of these, 25 are of the -1000 model. We have to wait for the presentation of the full-year results on February 13 to hear if the program has been break-even in 2019, as Airbus said it would be on earlier occasions.
A330-deliveries were up from 49 to 53 and included a solid 41 -900s compared to just 3 the year before. Not only did Airbus get the A330neo up and running, but it also benefitted from Rolls-Royce getting production of the Trent 7000 in better shape.
Airbus delivered just 8 A380s, down from 12 in 2018. This is in line with the revised production rate announced in 2018. Six aircraft were for Emirates, the other two joining All Nippon Airways.
Orderbook slightly below 2018-level
Looking at the order book, Airbus ended the year with 1.131 gross orders and 768 net orders and 363 cancelations, slightly down from 747 net orders in 2018. The sales team made of the second half of the year for the slow start of 2019, which in May showed -57 after 125 cancelations had to be included in the book.
The A320neo gained 654 net orders, including a burst of the A321XLR that was launched in June at the Paris Airshow and already had cleared 450 orders. Cancelations reached 134, including 112 A320neo's that were partly converted into A321neo's, although that model 'lost' 14 orders too.
The A220 had its best year ever at 63 new orders but also lost 55 due to cancelations, including 40 -300s. The A330-800 and -900 did better with 99 net sales and 5 cancelations, while the A330ceo lost 10 orders.
The A350 booked 32 net orders but also had to digest 81 cancelations of which 79 are -900s. The A380 – to be discontinued by the end of next year – lost 70 net orders, mainly by clearing up the order book and following Emirates' decision to cancel 39 aircraft still on order.
With the Mobile production line being expanded and Airbus looking at other options to increase the rate, don't be surprised the 2019 record will be short-lived.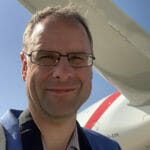 Active as a journalist since 1987, with a background in newspapers, magazines, and a regional news station, Richard has been covering commercial aviation on a freelance basis since late 2016.
Richard is contributing to AirInsight since December 2018. He also writes for Airliner World, Aviation News, Piloot & Vliegtuig, and Luchtvaartnieuws Magazine. Twitter: @rschuur_aero.