Both American Airlines and Southwest Airlines have produced a profit during the second quarter, they reported on July 22. American's was only a small $19 million compared to Southwest's $348 million net profit. This places Southwest behind Delta Airlines as the second most-profitable airline during the quarter but ahead of loss-making United Airlines, while for HY1 it is the best performing US carrier. The outlook for Q3 looks good, but Covid remains king in the outlook for the rest of the year. American and Southwest swing back into profitability. Let's have a better look at both airlines.
American Airlines:
American's $19 million net profit compares to a $2.067 billion net loss for Q2 last year. Excluding special items, the airline would have ended the quarter at a $1.1 billion loss, still the smallest during the pandemic. It recorded an operating profit of $441 million versus a $2.486 billion loss in 2020. Total revenues increased to $7.478 billion from $1.622 billion, with passenger revenues showing an almost six-fold increase to $6.545 billion as the airline carried 44 million passengers, more than any other US carrier during the quarter. Cargo revenues more than doubled to $326 million from $130 million. Compared to Q1, revenues were up by 81 percent.
Over the first six months, American continued to produce a net loss of $1.231 billion compared to $4.308 billion last year. The operating result was also a negative $874 million versus $5.034 billion in HY1 2020. Total revenues were up by 13.3 percent to $11.486 billion, with a comparatively bigger share of cargo at $677 million, up from $271 million.
American turned negative cash burn around to a modest $1 million cash build in Q2. It has $21.3 billion in liquidity but plans to step down its target to $10-12 billion in 2022 as it seeks to rebuild the balance sheet. This includes using available cash and free cash flow to reduce net debt by some $15 billion in 2025, up from the previous target of an $8-10 billion reduction. Total repayable debt stands at $13 billion and American wants to shed the high-cost debt as quickly as possible. As part of this plan, the airline has repaid its $950 million spare parts term loan that was maturing in April 2023.
New aircraft purchases will be paid in cash to avoid new debt. The retirement of the Boeing 757, 767, Embraer E190, and Airbus A330-300 have resulted in $743 million in impairment charges, plus another $27 million on the regional fleet of Embraer 140s and Bombardier CRJ200s. Total fleet numbers by the end of June stood at 1.413, of which 854 mainline aircraft. 37 Boeing 737-800s were in storage.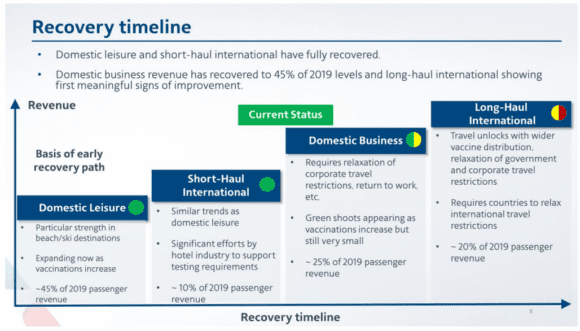 American's projected recovery timeline as it is seen now. (American Airlines)
Following the full recovery of domestic travel and as part of its Green Flag Plan, American will ramp up capacity this summer to ninety percent on the domestic and some eighty percent on the international network compared to 2019. The plan sees the opening of 150 new routes this summer and increasing connectivity at Miami, Orlando, and Austin. The Texas airport will get ten new domestic and four extra international services this autumn in response to demand. Part of the growth will come from the expanded partnership with JetBlue that will see over 700 daily flights between New York and Boston this coming winter.
To cater for the higher demand, American's key hubs at Washington DC, Charlotte, and Dallas-Fort Worth have all seen extensive refurbishments with the completion of additional gates.
While the airline was caught out by demand in June and had to cancel hundreds of flights as it was understaffed, it says now that it has brought back over 3.000 staff from leave. American has hired nearly 3.500 new staff so far this year and plans to hire 350 pilots during the coming months. For next year, another 1.000 pilots and 800 cabin staff will be sourced.
For the current third quarter, American estimates revenues to recover to some eight percent of pre-pandemic levels compared to 62.5 percent in Q2 and 37.9 percent in Q1. Passenger unit revenues have increased from $8.42 to $12 from the first to the second quarter.
Total Q3 capacity is still expected to be down by 15-20 percent and revenues 20 percent lower compared to 2019.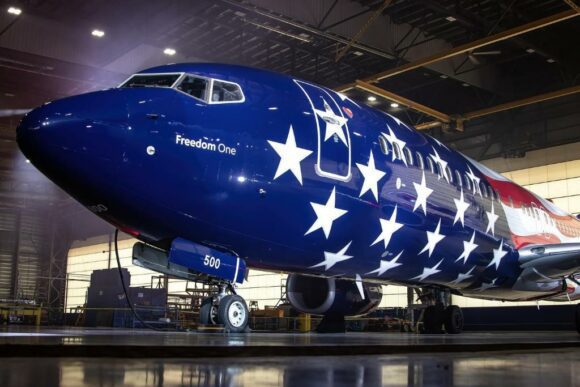 Southwest Airlines:
Southwest CEO Gary Kelly, who will step down in February, is most happy that his airline has swung back to profit and produced the first monthly profit again in June since March last year. That's without taking into account the benefits of payroll support wage cost relief, that is. Growing passenger numbers have caused some headaches, however, as the carrier tried to keep up with demand – and sometimes failed.
Q2 saw a $348 million net profit compared to a $915 million net loss last year. The quarter produced a $594 million operating profit versus a $1.127 billion loss in 2020. Total revenues grew by 297.6 percent to $4.008 billion, of which $3.569 billion was from passenger revenues and $50 million from freight.
HY1 shows a $463 million profit compared to a $1.009 billion loss, making Southwest the only US airline so far to have been profitable for the year to date. The operating profit was $793 million versus a $1.237 billion loss last year. Total revenues improved by 15.6 percent to $6.060 billion.
As noted by United on Wednesday, leisure traffic has rebounded strongly and has been stronger in June this year than in 2019. Load factors were at 85.5 percent again compared to 79 percent in April. July trends seem to confirm this trend. Business travel is lagging behind but Southwest is reporting improved revenues and bookings for this segment too. Q3 capacity is estimated to be up by 49 percent compared to Q2 and or par with 2019.
In response to this hockey-stick rebound, Southwest expects to have recalled the vast majority of its employees by the end of Q3.
Like American, Southwest has turned negative cash burn into cash build. From a $1 million cash burn per day in April and May, it has gone into a cash build of $4 million per day in June. Operating expenses per seat mile (CASM) decreased by 17.3 percent. The carrier ended June with $17.9 billion in liquidity. Net debt totaled $11.4 billion. It will repay $111 million in lease obligations in the second half of this year on top of the $43 million paid in the second quarter.
Despite the positive trends, Southwest still sees 2022 as another transition year in the pandemic recovery. The increasing numbers of the Delta Covid-variant in the US could result in a sudden end of the recovery. Fuel prices have also increased significantly in Q2 and will have a negative effect on the next quarters. For Q3 and Q4, Southwest includes a fuel price of $2.05-2.15 per gallon, somewhat lower than American's guidance of $2.10-2.15 and United's $2.17 per gallon.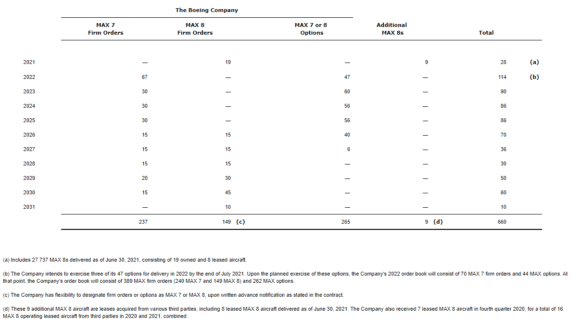 Delivery schedule for Southwest's MAX fleet as of July 22, 2021. (Southwest Airlines)

During the quarter, Southwest has taken delivery of seven Boeing MAX 8s and will add another leased one later this year. This will bring the MAX fleet to 68 by the end of 2021. The carrier has amended its supplemental agreement with Boeing once again and has exercised three options for delivery in 2022, with another three to be confirmed soon. The leaves 2022 firm orders at 70 and options at 44. The total order book is at 240 MAX 7s and 149 -8s, plus 262 options. The MAX deliveries will push CAPEX up next year to $1.6 billion.
By the end of June, the total fleet stood at 736 aircraft. The year will see the end of return of ten 737-700s, of which 39 remain in temporary storage, but they will return to service before the end of the year after completing the necessary maintenance.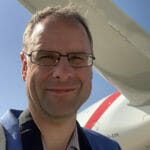 Active as a journalist since 1987, with a background in newspapers, magazines, and a regional news station, Richard has been covering commercial aviation on a freelance basis since late 2016.
Richard is contributing to AirInsight since December 2018. He also writes for Airliner World, Aviation News, Piloot & Vliegtuig, and Luchtvaartnieuws Magazine. Twitter: @rschuur_aero.