UPDATE – American Airlines has swung back into a net loss in the final quarter of 2021. After its best quarter ever in Q3 with a $169 million net profit, Q4 ended in red with a $931 million net loss. The carrier blames the result on 'volatility': periods with high demand countered by those with decreased demand as rising Covid-infections impacted travel. American swings back into Q4 loss in a volatile year.
America's full-year result was also negative, with a net loss of $1.993 billion compared to $-8.885 billion in 2020. Excluding special items of $4.4 billion, the loss was $5.4 billion. These items include $4.7 billion under the Payroll Support Scheme for its mainline and regional operations, a $27 million non-cash charge on the retirement of its remaining Embraer E140-fleet, plus $60 million in non-operating special items.
The operating loss for 2021 was $1.059 billion versus $-10.421 billion in the previous year. Total operating revenues improved to $28.9 billion from $17.3 billion. Passenger revenues improved 79.5 percent to $28.1 million. The airline carried 165 million passengers. Cargo revenues also improved to $1.3 billion, up from $769 million.
The $931 million net loss for Q4 compares to $2.178 billion in 2020. The operating loss was $780 million versus $-2.515 million. Total revenues more than doubled to $9.4 billion from $4.0 billion, of which $8.4 billion from passengers and $341 million from cargo. This recovery was higher than American had anticipated. Fuel costs almost tripled to $2.2 billion. The carrier is especially happy with its on-time performance in 2021, which was the best since the beginning of the pandemic.
American hopes to get four 787s this summer
On December 31, American's mainline fleet consisted of 865 aircraft, excluding 36 Boeing 737-800s that are in storage. The regional fleet had 567 aircraft, excluding ten stored Embraers. That makes 1.432 in total compared to 1.399 in December 2020. The fleet has been reduced to just four types. American is still in the dark when it will be able to take delivery of thirteen Boeing 787-8s that were scheduled for last year, but hopes to get at least four this summer. It hopes to receive the first in April, but the carrier has not received confirmation of that. For precautionary reasons, the 787 are excluded from the full-year capacity. Boeing will financially compensate the airline for the delayed aircraft and has indicated its preparedness to compensate extra if they continue longer.
Like Delta Airlines and United, American expects Omicron to have a limited effect on travel and could delay the recovery by two to three months. Leisure travel is up with strong bookings ahead while corporate travel is showing as it will significantly recover during the year. Running a reliable airline for our customers and returning to profitability are this year's priorities, said incoming CEO Robert Isom: "Looking forward, our focus in 2022 will be to continue running a reliable airline, returning to profitability, and delivering on our long-term plan to deleverage the balance sheet." Isom will take over from Doug Parker on March 31, who concluded his 107th results webcast since 1995. American had $15.8 billion in liquidity, the highest ever in its history. Current maturities and financial liabilities stand at $2.5 billion with total liabilities of $19 billion.
After swinging back into a Q4 loss, American Airlines expects capacity in Q1 to be down by 8-10 percent compared to 2019, with revenues 20-22 percent lower. These are conservative estimations, which could end up more positive if the Omicron effect diminishes. Chief Financial Officer Derek Kerr expects a return to profitability from March and the Easter holiday season, especially as it captures yield growth. But because of the Covid variant and not having all 787s makes it impossible to get operating expenses to the 2019 levels that in October it said it hoped to reach.
The carrier will hire some 18.000 new staff this year, including pilots, although there is a shortage of them as all airlines compete. The mainline operations will be adequately staffed but American's regional operations suffer from short-staffing. Isom said that a lot of effort will have to go into the regional airlines.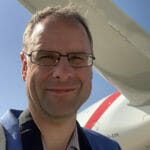 Active as a journalist since 1987, with a background in newspapers, magazines, and a regional news station, Richard has been covering commercial aviation on a freelance basis since late 2016.
Richard is contributing to AirInsight since December 2018. He also writes for Airliner World, Aviation News, Piloot & Vliegtuig, and Luchtvaartnieuws Magazine. Twitter: @rschuur_aero.