All Nippon Airways (ANA) has delayed the launch of its third airline AirJapan until late 2023 or early 2024. That's about a year later than the original plan, which mentioned the first services to start 'around fiscal 2022', which is the March 2022-March 2023 period. ANA delays AirJapan launch until late 2023.
ANA offered an update on AirJapan on March 8, revealing the brand and logo of the airline, showing the livery on a model of a Boeing 787-8. The carrier will operate a number of 787-8s from ANA's fleet of 36 -8s on medium-haul routes in Asia, offering a two-class cabin configuration.
ANA first revealed the plan for a third brand besides ANA and its low-cost subsidiary Peach during a presentation in October 2020 as part of a company-wide transformation plan. Where Peach focuses on low-cost, short-haul routes, the new brand would focus mainly on medium-haul and potentially some long-haul services as well, specifically on Asian growth markets.
As ANA said back then, the new brand was "to raise profits by targeting demand for low-cost, medium-distance flights to destinations in Southeast Asia and Oceania." The brand would use the existing Air Japan entity, an airline that was founded in 1990 as charter airline World Air Network but which since 2000 has operated as Air Japan. That same year, it launched international services between Osaka and Seoul and has been operating from Tokyo Narita to Asia and Hawaii since 2003. ANA said last November that it would allocate ¥50 billion of a bonds issue for the new brand.
The pandemic is the main reason to delay the launch of AirJapan until the second half of FY23, which runs from March 2023 to March 2024. Japan has been taken a careful approach to the Covid-crisis, frequently calling out the state of emergency to restrict travel. While domestic traffic has gradually reopened in the past year, international services operate at very low levels and frequencies. It is expected that Japan should be fully open later this year, offering a better outlook for 2023.
Details about its schedule and product are to follow
During today's presentation, President and CEO Hideki Mineguchi said that AirJapan will announce exact dates and details about its network at a later stage while his airline is monitoring how demand for international travel from Japan recovers. In a media statement, he said: "By focusing on medium-haul international routes, the ANA Group will be better equipped to meet emerging trends for international travel at a competitive price. We are proud to be part of the team that is increasing options for travelers while also bringing the same commitment to quality and safety found across the ANA Group."
AirJapan will neither be a full-service nor low-cost airline, but says it will offer a service product that combines "the best of both worlds while also featuring Japanese-style ideas and quality." Fares will be similar to low-cost rivals, which include ZIPAIR, the medium-haul airline of Japan Airlines (JAL).
ANA reported traffic figures for January on March 7. It carried 1.4 million passengers on its domestic network, down from 1.9 million in December and 1.7 million in November but higher than in October. International saw some 86.000 passengers, down from 99.000 in December but more than the 67.000 in November. The Asia/Pacific region has been the busiest market with 45.700, ahead of North America (32.800), and Europe (7.500). Cargo volumes in tons carried were significantly down in January at 16.966 compared to 25.573 in December. January was actually the lowest month since June.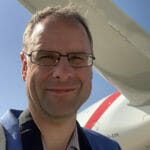 Active as a journalist since 1987, with a background in newspapers, magazines, and a regional news station, Richard has been covering commercial aviation on a freelance basis since late 2016.
Richard is contributing to AirInsight since December 2018. He also writes for Airliner World, Aviation News, Piloot & Vliegtuig, and Luchtvaartnieuws Magazine. Twitter: @rschuur_aero.