All Nippon Airways (ANA) latest commitment for up to 20 extra Boeing 787's is not significant for the sheer number of aircraft, nor the sub-types (11 787-10s and up to 9 -9s). The surprise in the February 25-announcement is what will be under the wings: the Japanese airline has opted for General Electric GEnx-1Bs in stead of more Rolls-Royce Trent 1000s.
This makes ANA's deal just as interesting as Air New Zealand's, when the Kiwi-airline announced in May 2019 that it had ordered 8 787-10s with GEnx-power in stead of Trents.  The clear message from both airlines is that they have lost some confidence in the Rolls-Royce product. And for a reason: both have suffered from reliabilty issues.
ANA was one of the first airlines in 2016 that recorded intermediate-pressure turbine (IPT)-issues on the Trent 1000. Soon after the first incidents and inspections it became evident not only IPT and high-pressure turbine (HPT)-blades were showing excessive wear but intermediate compressor (IPC)-blades as well.
What followed were three years of multiple inspections and repairs while Rolls-Royce tried to fix the issue on Package B and C-engines, only to find out that the latest Trent 1000 TEN-version wasn't immune of problems either. The peak of ANA 787-groundings happened between July and October 2018, causing major disruptions to the flight schedule.
ANA completed the upgrade of turbine components in February 2019 at the same time it launched fleet-wide upgrades and inspections of compressors. This program is to be completed this year.
GEnx has had issues too
The GEnx-1B hasn't been without reliability issues either. GE produced a durability upgrade package in 2018 that included HPT first-stage nozzles and blades, combustor linings and fuel nozzles, with the aim of improving on-wing performance by some 30 percent. The GEnx-1B and -2B (on the 747-8) also benefitted from two Performance Improvement Packages, although at first they didn't entirely bring the expected results.
With GEnx-orders from Turkish Airlines, Korean Air, Vistara, Hawaiian, CALC, and Biman since early 2018, the American engine maker has increased its market share well over 65 percent it claimed at Farnborough 2018. It is with great anticipation we wait for a decision from Emirates which engine will power its 30 787-9s on order since the 2019 Dubai Airshow. This won't be due until mid 2021-22. Rolls-Royce most significant recent order was Lufthansa's for 20 787-9s in March 2019.
As for ANA's latest order: the 11 787-10s will join the two currently in service on domestic routes and replace 777s from 2022. One 787-9 is on firm order from the airline, while three will be sourced from Atlantis Aviation Corporation. ANA has five -9s on option. Currently the airline has 36 787-8s and 33 -9s in service. ANA ordered the Dreamliner in 2004 but received the first one only in 2011.
(This story has been updated on February 28 and corrects Lufthansa's 787 engine selection)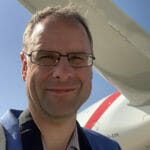 Active as a journalist since 1987, with a background in newspapers, magazines, and a regional news station, Richard has been covering commercial aviation on a freelance basis since late 2016.
Richard is contributing to AirInsight since December 2018. He also writes for Airliner World, Aviation News, Piloot & Vliegtuig, and Luchtvaartnieuws Magazine. Twitter: @rschuur_aero.