The first aircraft will not be modified until 2024, but the first Embraer converted freighters have already found their first customer. Lessor NAC has placed two E190Fs with Kenyan airline Astral Aviation, Embraer announced late on July 20. Astral to become first operator of the Embraer freighters.
The agreement currently is a Memorandum of Understanding between NAC and Astral. The cargo carrier will base the two Embraers at its hub in Nairobi, where they will operate "on a combination of scheduled and charter flights on our intra-African network. We are confident that the E-Jet freighter platform will be a game-changing addition to our growing fleet", Astral President and CEO Sanjeev Gadhia says in a media statement.
The two E190Fs are from the order that NAC confirmed in May and covers the conversion of ten E1-jets from passenger service to freighter operations. The work will be done by Embraer Services and Support itself at its Sao Jose dos Campos main facilities and preparations are well underway to start the conversions in 2024, Embraer President and CEO of Commercial Aviation, Arjan Meijer, said earlier during the Farnborough Airshow. Embraer first announced the conversion program at the 2021 Dubai Airshow and officially launched it in March.
"As a launch lessor for the E-Jet freighter conversion program, we are pleased to have executed an MoU to place two E190F aircraft with Astral Aviation, a leading cargo carrier servicing Africa. NAC aims to remain the leader in regional aviation and expand into larger narrow body aircraft, while building our full life cycle asset management capabilities," NAC President and CEO, Norman Liu, said.
Embraer expects demand for some 700 small and standard body freighter aircraft until 2041, it said this week in updated market forecast. The E190F and E195F fit in this niche that has been left unfilled until now and sits in between the turboprop freighters from ATR and the converted Boeing 737s and Airbus A320s. The total market for this type of freighters is expected to grow from 314 aircraft this year to 711 in 2041, based on the continued growth of e-commerce.
In February, Astral was announced as becoming the first operator of the first Airbus A320P2F on a long-term lease from Vaayu Group, but last week, the first aircraft actually was placed with Indian operator Pradhaan Air Express. Astral has been a cargo operator for 22 years.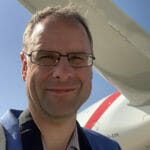 Active as a journalist since 1987, with a background in newspapers, magazines, and a regional news station, Richard has been covering commercial aviation on a freelance basis since late 2016.
Richard is contributing to AirInsight since December 2018. He also writes for Airliner World, Aviation News, Piloot & Vliegtuig, and Luchtvaartnieuws Magazine. Twitter: @rschuur_aero.