Franco-Italian turboprop maker ATR suffered from a difficult 2020, with lower orders and deliveries as customers were hit by the effects of the pandemic. ATR delivered just ten aircraft compared to 68 in 2019, its Italian shareholder Leonardo reported during its 2020-results presentation last week.
As many of its regional airline customers were grounded or went out of business following the outbreak of the Covid-crisis, their need for new turboprops was wiped out. Leonardo (a fifty percent shareholder in ATR, with Airbus taking the other half) delivered 26 fuselages to ATR, but only ten complete aircraft have been delivered. Gross orders for the year stood at six compared to 79 in 2019. Leonardo didn't say if or how many ATRs have been canceled or deferred but confirmed the Toulouse-based OEM has a backlog of 176 aircraft. These include orders for Wings Air, IndiGo, Cubana, Silver Airways, Braathens, FedEx, and Tunisair Express.
Lower deliveries resulted in an EBITA for Leonardo's share in ATR of EUR -69 million compared to EUR 53 million in 2019. Revenues were EUR 390 million versus EUR 1.439 billion in the previous year. The Italian shareholder did a EUR 40 million write-down or impairment on ATR "as a result of the critical issues that are currently characterizing the civil aviation sector, including in consideration of the effects of the abovementioned COVID-19 pandemic."
Leonardo's Aerostructures Division suffered equally, with EBITA at EUR -86 million and revenues of EUR 819 million (-27.2 percent) impacted too by lower volumes of Boeing 787 fuselage sections. It produced only eighty Dreamliner sections compared to 154 in the previous year. Leonardo will reduce the headcount at the division by some 500 employees through early retirement in order to be ready for smaller numbers after the Covid-crisis. Part of this restructuring is an industrial efficiency plan that includes more automation at its Pomigliano d'Arco site near Naples. This will reduce working hours by one third, making the program more profitable.
ATR now market leader
For 2021, the year when ATR celebrates its 40th anniversary, Leonardo is optimistic. General Manager Lucio Valerio Cioffi referred to 2020 as the low-point in ATR's history, but this year should see the turboprop market be the first to recover. Deliveries are expected to more than double to twenty but will be far below pre-Covid levels.
While market conditions remain uncertain, Chief Financial Officer Allesandra Genco noted there is "vibrant customer demand". She also referred to ATR's strong position as the "key-player in the turboprop market", especially after its main competitor De Havilland Canada announced it will pause production until it sees a material improvement in demand while at the same time sorting out its production issues. Genco expects better EBITA performance coming from ATR this year.
ATR itself has not disclosed its 2020 results yet, usually doing so only in May. One of the high lights of 2020 was the delivery of the first 72-600F to FedEx on December 15, twelve days after the type received certification from EASA. FedEx ordered thirty dedicated turboprop freighters in 2017, with twenty more on option. It plans to take delivery of six aircraft per year in the coming five years.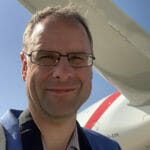 Active as a journalist since 1987, with a background in newspapers, magazines, and a regional news station, Richard has been covering commercial aviation on a freelance basis since late 2016.
Richard is contributing to AirInsight since December 2018. He also writes for Airliner World, Aviation News, Piloot & Vliegtuig, and Luchtvaartnieuws Magazine. Twitter: @rschuur_aero.