The first two days of Singapore Airshow 2020 have seen few commercial aviation announcements. But like Dubai Airshow last November, it is a planemaker of little aircraft that gets the deals. In Dubai, De Havilland Canada signed some important orders but in Singapore, ATR is hitting the headlines.
A reversed order here then. ATR didn't get any deals done in Dubai, but on the first show day in Singapore announced a firm order from PNG Air for three 42-600S aircraft. This is the short take-off and landing (STOL) version of the tried and tested turboprop that was announced at last year's Paris Airshow and officially launched in October. ATR left Paris with 20 orders and commitments for the 42-600S in the books and now can add three more for the regional airline of Papua New Guinea.
PNG Air is not a new customer to ATR, as the airline already operates a fleet of seven 72-600s. The new 42-600S' will be introduced as a replacement for the aging De Havilland Canada Dash 8-100, of which the airline has currently eight in operation. ATR didn't share details about delivery dates for the 42-600S, but the new version needs a proper certification phase that runs into the second half of 2022. Deliveries are expected soon after that with lessor Elix Aviation Capital and Air Tahiti the first to get them.
Day 2 in Singapore saw a conversion by lessor Avation from two purchase rights for 72-600s into a firm order, while at the same time purchase rights for two new aircraft were announced. Avation has placed the aircraft with US-Bangla from Bangladesh. They too are an existing ATR customer and the two additional aircraft bring the fleet to eight.
ATR has a 72-600 from Bangkok Airlines on static display this week. De Havilland Canada flew an 8-400 in Philippine Airlines colors all the way from Canada to Singapore before it announced on February 8 that it would pull out of the airshow due to the coronavirus. So far this week, DHC announced only service agreements with Maldivian for its ten Dash 8-200 and -300-fleet.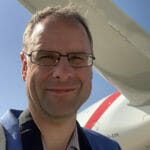 Active as a journalist since 1987, with a background in newspapers, magazines, and a regional news station, Richard has been covering commercial aviation on a freelance basis since late 2016.
Richard is contributing to AirInsight since December 2018. He also writes for Airliner World, Aviation News, Piloot & Vliegtuig, and Luchtvaartnieuws Magazine. Twitter: @rschuur_aero.