"Al Baker hungry for new opportunities", our headline said last week of Qatar Airways looking for new investment options. Today, we know Al Baker can delete one of his projects. Qatar and Alisarda announced on February 11 they will end their partnership in AQA Holding, resulting in the immediate liquidation of Air Italy.
The decision was made in a shareholders call between Milan and Doha when both parties concluded that they didn't want to continue their joint effort. Italian media report the breaking point was the investment plan to keep Air Italy flying. The airline would need at least half a billion euros in funding for the next two to three years.
Alisarda shareholder and founder Aga Khan, who owned 51 percent in Air Italy, was unwilling to continue funding the ailing airline. In a press release, Qatar said it "was ready once again to play its part in supporting the growth of the airline, but this would only have been possible with the commitment of all shareholders." An EU-limit that limits non-European investors to maximum 49 share made a further share-purchase by Qatar impossible.
With the decision to immediately liquidate Air Italy, the airline 'for safety reasons' stopped flights on the same afternoon of February 11. Other airlines have been hired to operate flights on behalf of Air Italy until February 25, until when it had some 35.000 bookings. Passengers with a booking after February 25 will be offered alternative services with other airlines.
Aga Khan and Akbar Al Baker reached an agreement to form Air Italy on September 28, 2017. The airline was a continuation of Alisarda, an independent airline based in Olbia on Sardinia and founded by Khan in 1963. Alisarda was renamed Meridiana in 1991 and while popular with Italians it lacked the necessary investments. It showed as it was one of the last airlines in Europe to operate McDonell-Douglas MD-82s before more modern Airbus A319s joined the fleet.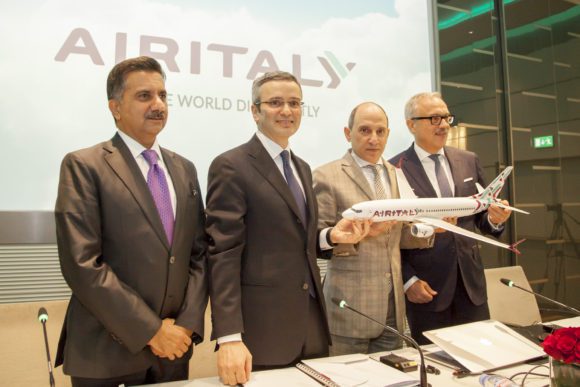 Milan – February 19, 2018: the launch of Air Italy in Milan. Akbar Al Baker holds the model aircraft, to his right is Meridiana chairman Francesco Violante. (Qatar Airways)
Air Italy was formally launched in February 2018 during a press conference in Milan, when Al Baker made a quick visit on his way to Toulouse to pick up his first Airbus A350-1000. He boldly announced his intention to make Air Italy the country's leading airline as national carrier Alitalia was in disarray following Etihad's decision to pull out.
Air Italy started on March 1 with a Boeing 737-800 to Mombassa (Kenya). On June 1, it operated the first service from Milan Malpensa to New York JFK, using an ex-Qatar Airbus A330-200. Later that same year it added services to Los Angeles, San Francisco, Chicago, Toronto, as well as to Delhi. It also operated domestically within Italy and into Africa.
The airline got embroiled in the spat between Qatar Airways and the three dominant US airlines American, Delta and United, who accused Qatar of using Air Italy to gain access to the United States through fifth freedom rights. Al Baker furiously has denied these accusations.
Aircraft leased through Qatar
Qatar not only provided Air Italy with cash (officially reported to be just EUR 39 million in 2017) but also with aircraft through its leasing company. On its final day of operations, Air Italy had five A330-200s, one Boeing 737-700 and three -800s. They were stop-gap measures for the grounded MAX 8s, of which three had been delivered since May 2018 with 17 more on order. The original plan called for 30 Boeing 787-8s to join Air Italy before 2022.
Despite positive intentions, Air Italy has been loss-making since the start. Its first full year (2018) ended with a EUR 164 million-loss, of which 15 million was attributable to Qatar Airways. Losses grew to EUR 198 million in 2019. Qatar refers to "the changing competitive environment and the increasingly difficult market conditions severely impacting the air transport industry".
Qatar must be identifying the difficult market within Italy, where Alitalia is still able to operate under bankruptcy protection and with government aid and stiff competition from Ryanair/Malta Air and easyjet. In a letter to Air Italy staff, president Roberto Spada referred to 'persistent and structural issues within the airline market' which made continuation of operations impossible.
A blow but not out
The demise of Air Italy means a blow to Qatar's aspirations to gain a stronghold in Europe through participation in another airline. Actually, it is the first failure Qatar has experienced if we exclude the ill-fated Al Maha Airways-project in Saudi Arabia in 2017. Al Baker must have acknowledged the peculiarities of the Italian aviation market, in which Air Italy has failed to gain leverage against its competitors.
But all might not be lost here from Qatar's point of view. Last week at the CAPA summit in Doha, Al Baker and European Commission Director-General for Mobility and Transport, Henrik Hololei, stressed the importance of the EU-Qatar agreement signed last year. It opens up opportunities for Qatar Airways for new routes and traffic for a fraction had it continued to support Air Italy. As such, the Italians seem to be the only losers of this airline failure with some 1.200 jobs at risk. Unless Al Baker decides to cancel the 17 MAX 8s it has on order and deals a blow to Boeing too.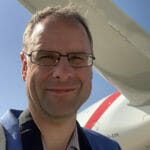 Active as a journalist since 1987, with a background in newspapers, magazines, and a regional news station, Richard has been covering commercial aviation on a freelance basis since late 2016.
Richard is contributing to AirInsight since December 2018. He also writes for Airliner World, Aviation News, Piloot & Vliegtuig, and Luchtvaartnieuws Magazine. Twitter: @rschuur_aero.