It's only one aircraft, but with the delivery of another ATR 42-600 to a Japanese customer, the turboprop maker is making further inroads into the Japanese turboprop market. The airframer delivered the first and only 42-600 on order from Oriental Air Bridge (ORC) on December 16. ATR grows Japanese fleet to 15 with ORC delivery.
The delivery comes almost five months to the day when ORC and ATR announced the order at the Farnborough Airshow. The airline will operate the aircraft between Nagasaki and Fukuoka in the South of Japan as well as to remote islands around the Nagasaki Prefecture. ORC has a long history that goes back to 1961, but in its current format it started services in 2001.
The airline operates two aging De Havilland Canada Dash 8-200s that are over 22 years old, but the ATR is brought in to renew the fleet. According to ATR, ORC will commence ATR services only in July, although the airline's senior managing director Kazuhito Tanaka is quoted in the press release as saying that "we are pleased to start operating our ATR soon." ORC's aircraft, which has 48 seats, is covered by an ATR Global Management Agreement to support operations.
The ATR fleet in Japan now includes fifteen aircraft. Nine 42-600s and two 72-600s are flying with Japan Air Commuter, a regional subsidiary of Japan Airlines. JAC originally had ordered only the smaller turboprop but converted two into 72-600s in June 2018. Another JAL subsidiary, Hokkaido Air System, operates three 42-600s that were ordered at the 2018 Farnborough Airshow. The fifteenth aircraft is the one for ORC.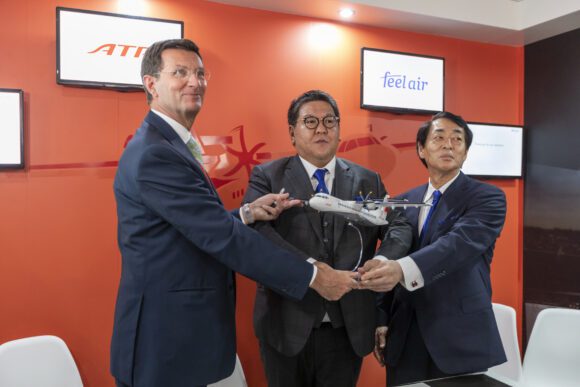 Feel Air Holdings is set to become ATR's biggest Japanese customer when it confirms the 36 aircraft that are part of an LoI. This was signed in July in Farnborough. (ATR)
At this year's Farnborough Airshow, start-up airline Feel Air Holdings signed a Letter of Intent for up to 36 ATRs, but confirmation is not expected until coming April. The LoI covers the standard 42-600, the 42-600S short take-off and landing version, and the 72-600. Feel Air East plans to launch services from Tokyo Narita in the spring of 2024 and will grow its fleet to eleven ATRs. Feel Air West will launch in 2026 and have a fleet of ten aircraft. In 2027 and 2028, the holding will launch services with Feel Air Central, North, and South which will each have five ATRs. Through its franchise brands, Feel Air wants to establish a network in regions that are underserved by air transport.
Another Japanese customer in the backlog is Toki Air, which will become the first Japanese operator of the 42-600S in 2025. The start-up airline signed an LoI with ATR at the 2021 Dubai Airshow. It intends to operate the aircraft out of Niigata and the island of Sado to bolster regional connectivity. Last November, Toki Air took delivery of two second-hand 72-600s that are on lease from Nordic Aviation Capital (NAC).
On November 29, ATR delivered the first of five 72-600s with the new Pratt & Whitney PW127XT-M engines to Air Corsica. The new engine version is more fuel efficient and should have lower operating costs.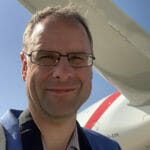 Active as a journalist since 1987, with a background in newspapers, magazines, and a regional news station, Richard has been covering commercial aviation on a freelance basis since late 2016.
Richard is contributing to AirInsight since December 2018. He also writes for Airliner World, Aviation News, Piloot & Vliegtuig, and Luchtvaartnieuws Magazine. Twitter: @rschuur_aero.