Despite "solid momentum" and "a significant decrease of its adjusted operating loss" in Q4, Air Transat's parent company Transat AT ended FY22 with a deeper net loss compared to the previous year. The Canadian group reported a loss of C$-445.3 million for the financial year that ended on October 31. Air Transat reduces losses and expects 2023.
At a first glance, Transat's numbers look promising. Full-year revenues were up to C$1.642 billion from just C$124.818 in Covid-year FY21 but could have been much higher if there hadn't been mass cancelations in the 2021-2022 winter period following the emergence of the Omicron variant. This resulted in new travel restrictions across Canada just before the Christmas peak. Air Transat recovered to 87 percent capacity during the summer, but its network was still at a reduced level.
Transat's full-year operating loss was C$-303.4 million compared to C$-401.2 million last year. The Adjusted operating loss looks even better at C$-156.8 million versus C$-213.9 million. But the net loss attributable to shareholders was worse than in FY21: C$-445.3 million compared to C$-389.6 million. Then again, the Adjusted net loss faired better at C$-403.7 million versus C$-446.4 million. Apart from the usual items such as high fuel costs, the group suffered from a C$92.2 million foreign exchange loss.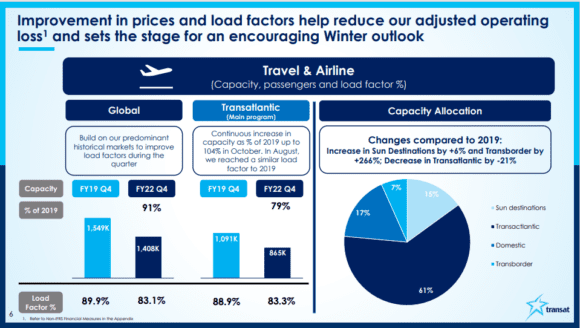 Accelerated recovery
Not all was bad for Air Transat, as the recovery that set in during Q3 accelerated in Q4, with sun destinations and those in Europe remaining very popular. The airline operated at 91 percent capacity, driving Q4 revenues up to C$573.1 million (FY21: C$62.8 million). The operating loss was C$-48.8 million (C$-118.3 million), the Adjusted operating loss was C$-11.5 million (C$-58.4 million), and the net loss attributable to shareholders C$-126.2 million (C$-121.3 million). The group burnt C$23.4 million per month in cash in Q4 or C$18.8 million per month for the full year.
In Q4, fuel prices were up 61 percent year on year, while the Canadian dollar lost six percent on the US dollar which cost Transat C$64.4 million. On the flip side, higher demand resulted in increased airfares, "which is helping us to deal with higher costs", said President and CEO Annick Guérard in the earnings release.
Transat had C$422.5 in unrestricted liquidity at its disposal by the end of October, including C$100 million in undrawn credit facilities. Net debt is C$1.6 billion. The group is in discussions with banks and investors about improving its working capital and is trying to negotiate cheaper contracts with suppliers. As part of its strategic plan, Air Transat wants to optimize its operations by improving aircraft utilization and reducing fixed costs. It secured a five-year agreement with the International Association of Mechanists and Aerospace Workers, with a three-year agreement in place until May 2025 with pilot union ALPA.
Outlook
In its outlook for 2023, Transat says it expects Air Transat to operate at 97 percent capacity this winter and at 90 percent on average for the full year compared to 2019 levels, so around its Q4 levels. Thanks to strong bookings, yields/unit revenues will be around fifteen percent up this winter season from 2019: "The combination of demand and higher prices will allow the Corporation to deal with higher costs." The summer season will see 275 weekly flights to more than forty destinations, with a focus on Europe but increasing the offering to Central America and the US, notably to Florida and California.
The network also includes 27 domestic flights per week, of which ten between its main base Montreal and Toronto. In October, Air Transat announced a codeshare agreement with fellow-Canadian airline Porter to and from Halifax, Toronto City, and Montreal. The agreement is complimentary to the one with WestJet that was announced in May and connect Air Transat's transatlantic network with WestJet's domestic and US network. Taking fuel costs, exchange rates, and a short recession into account, Transat expects the operating income margin to be between four and six percent.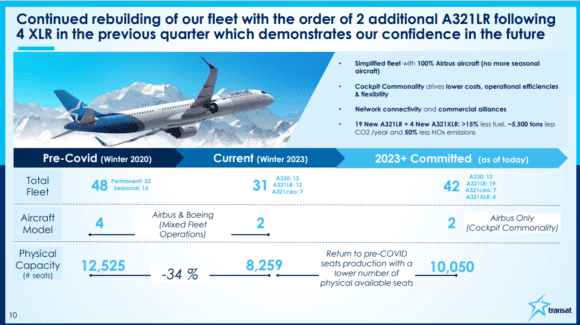 As part of its strategy to streamline and renew the fleet, Air Transat ordered two more Airbus A321LR in November for delivery in 2024. It didn't reveal if these aircraft will be leased or are on direct order with Airbus, but they don't show in the airframers O&D list for November.

Air Transat said in September that it had sourced three A321XLRs from Air Lease Corporation (ALC) for delivery in 2025 and 2026, with an option on one more. The current A321neo-fleet includes twelve aircraft, with another eleven on order. When delivered, Air Transat will have nineteen A321LRs and four XLRs, plus seven A321ceo's and twelve A330s than can be operated by the same pilots under a mixed fleet agreement with Transport Canada. Eight A330s and five Boeing 737-800s will be returned to lessors.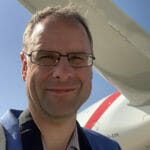 Active as a journalist since 1987, with a background in newspapers, magazines, and a regional news station, Richard has been covering commercial aviation on a freelance basis since late 2016.
Richard is contributing to AirInsight since December 2018. He also writes for Airliner World, Aviation News, Piloot & Vliegtuig, and Luchtvaartnieuws Magazine. Twitter: @rschuur_aero.