ATR reports it has "certified  its new Vibration Monitoring System (VMS) which will allow airlines to constantly monitor and fine tune propeller vibration. This innovation, which will be available on all new aircraft from March 2018, improves both aircraft reliability and passenger comfort. It will also be available to retrofit on in service aircraft, via Service Bulletin. 
The new VMS will be permanently installed on the aircraft and replaces the previous temporary ground tooling systems used to monitor engine vibration. This equipment, which will be supplied by Meggitt Sensing Systems, removes the need for airlines to organise regular ground testing or put maintenance personnel on revenue flights, therefore improving maintenance efficiency.
VMS measures vibration at engine level in real time, via an acceleration sensor, or accelerometer, placed on each engine very close to the propeller. The vibration analysis performed throughout the flight within the Vibration Monitoring Control Unit will be stored for easy access after flight by Maintenance personnel through the MCDU (Multifunctional Control Display Unit). The resulting VMS report is then included in the Aircraft Condition Monitoring System, with precise directives to airline maintenance crews on how to balance the propellers.
Reducing propeller vibration improves the comfort for everyone on board by minimising vibration and engine noise in the cabin. It also improves the reliability of engine components and of the aircraft as a whole, and ultimately reducing Direct Maintenance Costs."
The bane of flying a turboprop for many is the expected noise and vibration.  During last year's ATR72 visit to the US, we can testify there is hardly any vibration and cabin noise is remarkably low.  Further reducing vibration is a benefit for an already comfortable ride. Today's turboprops are a world away from what many expect.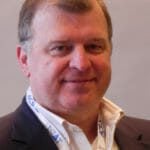 Co-Founder AirInsight. My previous life includes stints at Shell South Africa, CIC Research, and PA Consulting. Got bitten by the aviation bug and ended up an Avgeek. Then the data bug got me, making me a curious Avgeek seeking data-driven logic. Also, I appreciate conversations with smart people from whom I learn so much. Summary: I am very fortunate to work with and converse with great people.