Franco/Italian turboprop maker ATR has had a pretty successful Paris Air Show, signing commitments for 75 aircraft worth $1.7 billion. By comparison: Farnborough last year earned ATR 17 sales.
The biggest order came from regional aircraft leasing specialist Nordic Aviation Capital (NAC), which placed 35 firm orders, 35 options and another 35 purchase rights. Total value of all 105 at list prices is $2 billion.
The aircraft on firm order will be 72-600s, to be delivered between 2020 and 2025. NAC seems to have the flexibility to convert options and purchase rights to any -600 version, so including the smaller 42-600.
"With this 100+ aircraft deal, we are making a strategic decision to ensure that airlines can lease and operate the most modern and eco-responsible regional aircraft available in the market", NAC Martin Moller is quoted in the ATR press release.
ATR used the air show to launch the new short take-off and landing (STOL)-version of the ATR42, designated -600S. The aircraft can take-off and land on runways no longer than 800 meters compared to 1.050 meters field length for the standard version, making it an ideal tool in rugged territory.
Dublin-based lessor Elix Aviation Capital is the launch customer for the type and signed a Letter of Intent for 10 for delivery between 2022-2024. "The aircraft has the capability to provide significant advantages to airlines, boosting revenue potential and opening up new airports with shorter runways. There are communities all over the world who will be able to benefit from the increased connectivity that this aircraft will supply", said Elix CEO John Moore.
The 42-600S got another customer when Air Tahiti signed a firm order for two. "The ATR 42-600S will enable us to use higher-capacity aircraft for destinations which until now had only been accessible with much smaller aircraft. This is excellent news, both for the inhabitants of the archipelago and for the tourists who visit us", says the airline's General Manager, Manate Vivish.
An undisclosed customer also ordered five 42-600s', bringing total orders at the show at 17. Another undisclosed customer ordered 22 72-600s.
ATR's CEO Stefano Bortoli was more than pleased with the outcome of the Paris Air Show: "These commercial results are also further proof of the efficiency of the turboprop technology, which ensures the enduring appeal of the ATR aircraft, which have the best environmental credentials on the regional market."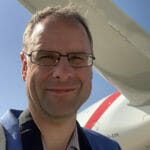 Active as a journalist since 1987, with a background in newspapers, magazines, and a regional news station, Richard has been covering commercial aviation on a freelance basis since late 2016.
Richard is contributing to AirInsight since December 2018. He also writes for Airliner World, Aviation News, Piloot & Vliegtuig, and Luchtvaartnieuws Magazine. Twitter: @rschuur_aero.