Brazil's Azul has taken drastic actions in response to the Covid-19 crisis, including deferral of 59 Embraer E195-E2s by four years. The airline recorded a R$-975.3 million Q1-net loss compared to a 113.4 million profit last year, it reported on May 14.
Before the Covid-crisis, Azul's network in and outside Brazil included 960 daily flights to 116 cities. This was reduced to 70 flights to just 25 cities in April as capacity was down by 90 percent. Only since May, Azul has expanded this again and on May 11 flew 115 daily flights to 38 cities. Year on year, capacity for Q2 is expected to be -75 to -85 percent lower. It operated only 15 to 20 of its 138 commercial fleet in the first quarter.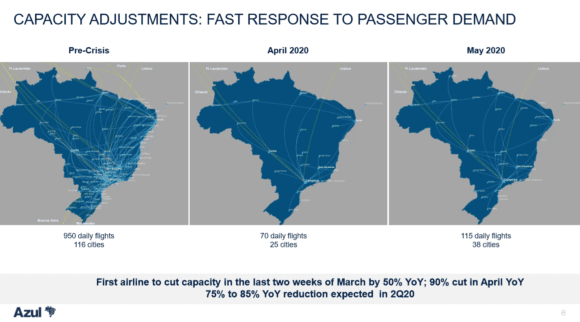 In Q1, Azul still booked an operating profit of R$173.6 million versus 347.2 million last year, but revenues were 10 percent lower to R$2.802 billion. Operating expenses soared by almost 20 percent to R$2.629 billion.
Immediately after the crisis worsened, Azul has taken a number of cost cutting measures that should reduce daily cash burn to R$3 or 4 million per day by Q2 or -55 percent compared to before the crisis hit. Measures include deferral of lease payments of its aircraft, which has a significant effect as 90 percent of the airline's fleet is leased. This includes 53 Embraer E and E2s, 42 Airbus A320neo's, 33 ATRs, and 17 Cessna Caravans.
Some 78 percent or 10.500 staff are on voluntary unpaid leave. Azul announced salary reductions for executive officers and management as it targets to reduce salary expenses by 50 percent. Payment of bonuses has been placed on hold. Azul is in negotiations with suppliers and partners to extend payments terms and will slash Capex in Q2 to almost zero.
E195-E2 deliveries deferred
Part of its cost reduction plan is the deferral of deliveries of 59 Embraer E195-E2 that were slated for delivery between this year and 2023. In the plan outlined on its capital markets day last year, Azul expected 14 E2s this year, 12 in 2021, 9 in 2022, and 5 in 2023. They should now arrive in 2024 and beyond, which is a blow to Embraer as the Brazilian planemaker tries to keep its production going. Azul hasn't identified any deferral of Airbus A320neo's, but they too were prominently in last year's plan: 14 this year, 9 in 2021, 9 in 2022, and 10 in 2023. The airline will retire 51 aircraft until 2023, all Embraer E1s.
Azul has also bolstered its cash balance, which stood at R$3.1 billion at the end of Q1. Since then, it has added another 2.2 billion in deposits and maintenance reserves. Including unencumbered assets of R$1.4 billion, the airline has R$6.7 billion in liquidity available. Cash balance is expected to go down to R$2 billion by June.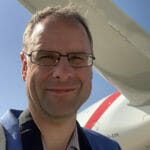 Active as a journalist since 1987, with a background in newspapers, magazines, and a regional news station, Richard has been covering commercial aviation on a freelance basis since late 2016.
Richard is contributing to AirInsight since December 2018. He also writes for Airliner World, Aviation News, Piloot & Vliegtuig, and Luchtvaartnieuws Magazine. Twitter: @rschuur_aero.