Boeing ended 2019 with a net loss of $636 million, down from a $10.460 billion profit the previous year, reflecting the annus horribilis that followed the MAX-issues. Commercial Airplanes suffered most, recording a net los for the full year of $6.657 billion compared to a $7.830 billion profit in 2018.
Boeing Group revenues were down 24 percent from $101.127 billion to $76.559 billion, again the result of the troubles at Commercial Airplanes. Operating margin was down from 11.9 to -2.6 percent. Operating cashflow also went deep into the red from $15.322 billion to $-2.446 billion.
Defense, Space & Security, and Global Services contributed positively to the Group result, with net profit of Defense up 57 percent to $2.608 billion and Global Services 6 percent to $2.697 billion.
Q4 tells an even more somber story for Commercial Airplanes: revenues were down 55% from $16.531 billion to $7.462 billion, resulting in a net loss of $-2.844 billion compared to a $2.600 billion profit the same period last year. Compare this to Q3, when net loss was only $40 million and -4.946 billion in Q2, which included an after-tax charge. Operating margin for Commercial was -20.6 percent last year compared to +13.6 percent in 2018, hitting as low as -38.1 percent in Q4.
MAX charges total $6.3 billion
In his first earning call, CEO David Calhoun repeated his predecessor's  priority of a safe return to service of the MAX as well as restoring confidence and the relationship with customers and regulators.
Boeing has taken another $2.6 billion pre-tax charge related to potential concessions and other considerations relating to the grounding. This brings the total charge for FY19 on the MAX program to $6.3 billion.
Production costs of the 737 increased $2.6 billion in Q4. Suspension of MAX production will cost Boeing approximately $4 billion in abnormal production costs that will be incurred in the 2020 results. Total costs related to the MAX grounding and production have now cleared $18 billion.
Once the grounding is lifted, Boeing will keep MAX production at a low and prudent rate in 2020 and bring lines slowly back into play.
CFO Greg Smith outlined details of other commercial programs. Production rate of the 787 will be reduced from the current 14 per month to 12 by late this year before dropping to rate 10 by early 2021. Boeing expects to return to rate 12 in 2023 again. It will be decided later if the reduction will be evenly split between Everett and North Charleston, which had just increased their rate to 7/month each.
The 777 will see a 'managed approach' as far as production rates are concerned. After the succesful first flight of the 777-9, certification and first deliveries should be possible next year. Boeing will keep monitoring the market demand for the 777F. Production rate of the 767 and Tanker will be increased from 2.5 to 3 a month.
World wide trade dynamics require a prudent approach to the market, but Smith is still confident demand for widebodies will be strong. The trade deal between the US and China could be a major stimulus for that, Calhoun added.
NMA on hold as product strategy is reviewed
Smith confirmed the New Mid-market Aircraft (NMA) is on hold and that Boeing has taken a step back to review its product strategy, but the design work undertaken on the NMA will be included in this review. "Don't get us wrong: we will do a new one", Calhoun said.
Boeing has reached agreement with a number of banks to provide $12 billion in funding, Smith confirmed. This will help improve Boeing's cash position, but cash flow will be further strained this year and will only recover in 2021. Last year, cash and marketable securities totaled $10 billion.
2020 is expected to be another rough year financially as the grounding of the MAX continues with its production suspended undefinitely.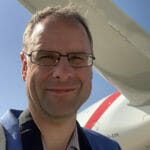 Active as a journalist since 1987, with a background in newspapers, magazines, and a regional news station, Richard has been covering commercial aviation on a freelance basis since late 2016.
Richard is contributing to AirInsight since December 2018. He also writes for Airliner World, Aviation News, Piloot & Vliegtuig, and Luchtvaartnieuws Magazine. Twitter: @rschuur_aero.