Boeing had little to add on the final day of the Paris Air Show, announcing no additional orders during the final press conference on June 20. With everything focussed on getting the MAX back in service, Boeing took a humble stance during the 2019 event. A huge contrast to the 2017 edition, when Boeing defeated Airbus fair and square on orders after a successful launch of the MAX 10.
Boeing surprised many – even itself – by getting a commitment on June 18 from International Airlines Group (IAG) to buy some 200 MAX 8s and 10s for its Vueling, Level and British Airways brands. The deal still needs to be completed and this gave Airbus CCO Christian Scherer the opportunity to try to offer the A320neo-family. During the end-of-show press conference on June 20, Scherer told reporters Airbus would be vying for the order for which IAG never seems to have placed a tender.
Boeing's other masterstroke was a provisional deal with Korean Air for 10 787-9s and 10 787-10s, while Air Lease Corporation (ALC) will lease another 10 -10s to the Koreans as well. It is an order Airbus would have loved to have.
Together with five orders from ALC for 787-9s, Turkmenistan buying another 777-200LR and Qatar Airways (5) and China Airlines (6) selecting more 777Fs, Boeing again dominated on the widebody front.
Boeing also reached agreements for the conversion of 737-800s to Boeing Converted Freighters (BCF), signing deals with GECAS for 10 and ASL for 20.
Paris must have been the most unusual, low-profile airshow in Boeing's history, but the US planemaker showed it might be down but certainly not out.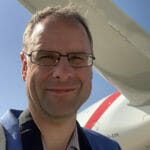 Active as a journalist since 1987, with a background in newspapers, magazines, and a regional news station, Richard has been covering commercial aviation on a freelance basis since late 2016.
Richard is contributing to AirInsight since December 2018. He also writes for Airliner World, Aviation News, Piloot & Vliegtuig, and Luchtvaartnieuws Magazine. Twitter: @rschuur_aero.