The FAA has Boeing given permission to re-start deliveries of the 787 in the coming week, having resolved a potential issue in the forward pressure bulkhead area, The Seattle Times and Reuters report. The issue led to the suspension of Dreamliner deliveries in February. Boeing set to resume 787 deliveries next week.
Deliveries were paused in February after Boeing had notified the FAA of a potential analysis error in the documentation that described the pressure bulkhead issue. This part is in the nose section that is being produced by Spirit AeroSystems. Already in 2021, Spirit identified that there were tiny gaps between the bulkhead and the nose structure when it checked them for production quality flaws. This was part of the bigger investigation of quality issues, that first came to light on the aft fuselage sections in 2019. The FAA demanded in May 2021 that deliveries were suspended. They were only lifted in August 2022.
The analysis error had now been corrected as an issue that only existed on paper. No aircraft need rework and this also applies to Dreamliners that have been delivered since August, including 31 through December and three in January. However, each delivery from will require individual approval from the FAA, but this has been common practice since Boeing is under scrutiny from the regulatory agency.
On December 31, Boeing had 100 Dreamliners in inventory that need inspection and rework before they can be delivered. The airframer expects it will take until late 2024 until it has cleared the inventory. Boeing plans to increase the production of the 787 from the current very low single-digit numbers to five per month by the end of the year and to ten a month in 2025/2026.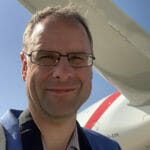 Active as a journalist since 1987, with a background in newspapers, magazines, and a regional news station, Richard has been covering commercial aviation on a freelance basis since late 2016.
Richard is contributing to AirInsight since December 2018. He also writes for Airliner World, Aviation News, Piloot & Vliegtuig, and Luchtvaartnieuws Magazine. Twitter: @rschuur_aero.