At last year's EBACE, Bombardier surprised the industry with two new Global models, the 5500 and 6500.  This year, the company is reporting continued momentum with the programs.  The first production Global 6500 has moved from Downsview in Toronto to the Montreal completion center, and 90% of the required flight testing has been completed towards certification.
Julien Boudreault, Vice President – program management indicated "flight testing, production – everything is running as per plan.  We are confident we are going to hit what we broadcast."

The Global 6500, which can carry 17 passengers, will have a range of 6,600nm.  It's sister 16 passenger Global 5500 will have a range of 5,700 nm range.  Most of the gains in fuel economy and performance can be attributed to the new wing design and the new Rolls Royce Pearl engines.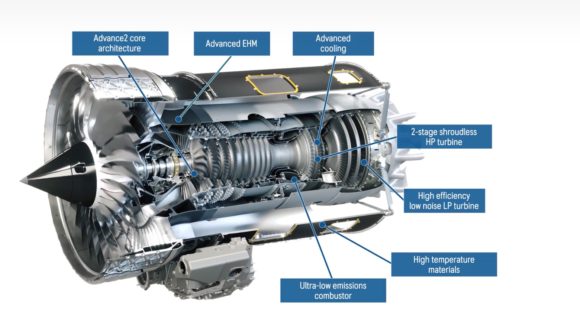 The Rolls Royce Pearl 15 has an overall pressure ratio of 43:1, with the high pressure compressor providing a 24:1 ratio.  This has improved fuel efficiency by 7% over the engines on the Global 5000 and 6000 models.   Because the engine also provides about 9% more thrust from hot and high airports, the range from airports like Toluca enables non-stop service to Europe.
The new wings, which are tapered and aerodynamically improved, provide an increase in speed capability to M.90 as well as improving fuel efficiency by 13%.
On the interior, the Nuage lounge seat is being displayed at EBACE.  This innovative chaise lounge provides interior flexibility and is adjustable to multiple configurations.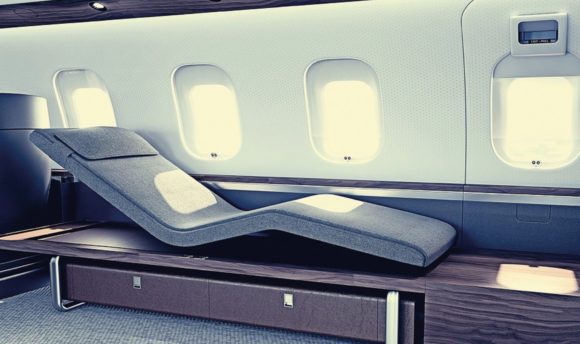 The cockpit also features a "combined vision system" that incorporates infra-red and synthetic vision onto one display for the pilot on a heads up display, for maximum safety during poor weather conditions.
The Bottom Line:
Bombardier, now focusing on business aviation after selling the CSeries and Q400 programs, is building momentum with the new models at the top of the product line, including the Global 7500 that recently entered service and the two new Globals, the 5500 and 6500 that are nearing certification and entry into service.