Embraer announced today at EBACE that is Praetor 600 has received EASA and FAA approvals in May, joining the Brazilian certification in April.
Michael Amalfitano, President and CEO of Embraer Executive Jets stated "Now certified by the key aviation safety agencies of the world, the Praetor 600 has proven to be the most disruptive and technologically advanced super-midsize business jet to enter the market, paving the way to begin deliveries in the second quarter. Just over six months since its launch and debut, the Praetor 600 has already been outperforming its certification goals, raising expectations of the ideal super-midsize."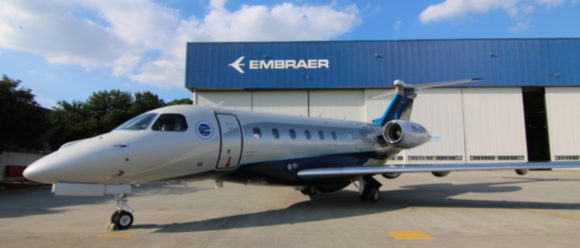 The Praetor 600 is the first super-midsize jet with full fly-by-wire technology. That technology also controls an active turbulence reduction system that provides a smooth ride while maximizing efficiency. As a result, the Praetor 600 has surpassed its design goals, as shown in the table below:

The Praetor 600 features the Embraer DNA Design interior, a 5,800 foot cabin altitude, a six foot tall flat floor cabin and a vacuum service lavatory. The eight fully reclining club seats can be berthed into four beds, and the aircraft also includes a full service galley. The Upper Tech Panel displays flight information and 16 Mbps internet is provided through Viasat KA-band service.
The cockpit features Collins Pro Line Fusing flight deck with an industry-first vertical weather display, ABSB-IN, predictive wind-shear radar and Embraer's Enhanced Vision System.