Cathay Pacific expects a consolidated loss for FY22 of between HK$6.4 and HK$7.0 billion, which compares to HK$5.5 billion in FY21. It mainly attributes the deeper loss to the "significant losses" from associates that are recognized three months in arear, the Hong Kong-based airline said on January 20. For FY23, Cathay is optimistic about a further recovery to full capacity in 2024. Cathay Pacific bullish for 2023 despite higher FY22-loss.
Cathay Pacific will present its consolidated FY22 results only on March 8, but provided guidance in its December traffic figures and business update. Passenger numbers were up 768.7 percent to 801.088 compared to December 2021, when the airline was still largely grounded due to severe Covid restrictions. The number is still 73.3 percent down on 2019 levels.
The Christmas period was strong, as it was the first time in three years that Hong Kong was open to visitors and air travel on a large scale. Short-haul routes saw strong demand as the airline grew its network back to sixty destinations from 29 in January last year. Traffic to North America and Europe was also strong again. Cathay carried on average 25.800 passengers per day in December, but capacity was still just 32 percent of 2019. Cathay carried less cargo: 21 percent less compared to December 2021, or 106.471 tonnes.
HY2 airline losses significantly lower
Cathay's HY2 results were very strong and the airline produced a small, not specified loss. As said, the higher consolidated loss comes from associates within the group. Yet, CEO Ronald Lam is "very encouraged to see a trend of continuous improvement in our operations and financial performance for our airlines and subsidiaries in the second half of 2022." In November, Cathay said that 2022 would produce a substantial loss.
In 2023, the lifting of restrictions in China offers good opportunities for Cathay to further restore connectivity and capacity and return to profitability. "As a Group, which includes passenger airlines Cathay Pacific and HK Express, we anticipate we will be operating about seventy percent of pre-pandemic passenger flight capacity by the end of 2023 with the aim of returning to pre-pandemic levels by the end of 2024," Lam said.
January ends strong, as the Chinese New Year is driving leisure traffic from Hong Kong to Mainland China. "We aim to operate more than 100 return flights per week to and from fourteen cities in the Chinese Mainland by the end of February."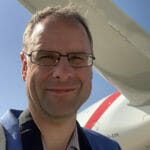 Active as a journalist since 1987, with a background in newspapers, magazines, and a regional news station, Richard has been covering commercial aviation on a freelance basis since late 2016.
Richard is contributing to AirInsight since December 2018. He also writes for Airliner World, Aviation News, Piloot & Vliegtuig, and Luchtvaartnieuws Magazine. Twitter: @rschuur_aero.