UPDATE – The further relaxation of restrictions for travelers into China might seem to be good news at first. But the pace at which the country has changed its strict zero-Covid policy and the sharp increase in infections is a concern for other countries, which are implementing new restrictions for travelers from China. China's reopening causes concerns and offers new options.
The Chinese National Health Commission announced on December 26 that inbound travelers no longer need to quarantine when entering China from January 8. However, they will need to present a PCR test not older than 48 hours. This latest step follows the drastic change earlier in December when the Omicron variant was no longer considered to be a deathly disease but is considered to be a heavy flu only. The zero-tolerance policy seriously affected domestic and international air travel in China and the Big Three airlines.  
Since then, daily infections have run into the millions. While an NHC update of December 24 continues to report no deaths related to Covid, Western media have reported a surge of casualties and crematoria that operate 24/7. Health officials around the world are concerned about the emergence of a potential variant of the Omicron virus that could spread around the world when China reopens and the Chinese start traveling again.
Japan has responded quickly by announcing today that it will require all travelers arriving from China to produce a PCR test from December 30. Anyone who has visited China in the past seven days needs mandatory testing. If positive, one has to be admitted at a special Covid facility for seven days.
As reported by Asia Nikkei, the Japanese government is to block any initiatives by airlines to increase frequencies between China and Japan. Japanese carriers have slowly been adding flights between the two countries since October when Japan relaxed restrictions for incoming travelers. But the government is wary of introducing a new health problem after Japan emerged from the worst of the pandemic this summer.
Other countries have followed suit, like Italy. The US government said on December 28 that a PCR test not older than 48 hours is mandatory for anyone traveling from China to the United States from January 5.
Etihad adds extra flight to Shanghai
In contrast with the careful approach is the announcement from Etihad Airways that it will double its weekly services between Abu Dhabi and Shanghai from one to two from February. The Arabian airline is seeing growing demand for air travel between the two countries. Etihad already operates twice-weekly services to Guangzhou and a weekly service to Beijing.
KLM and Lufthansa are said to be ramping up their services to China in January. Thai AirAsia will likely follow suit as well. CEO Santisuk Klongchaiya said last week that his airline is ready to ramp up capacity to China when the country reopens: "With the Chinese government anticipated to scale back travel limitations during the first quarter of 2023 and consider a quota for inbound flights, this will present an important opportunity for Thailand's tourism and Thai AirAsia is ready to immediately serve flights to China with our large fleet of 53 aircraft."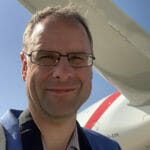 Active as a journalist since 1987, with a background in newspapers, magazines, and a regional news station, Richard has been covering commercial aviation on a freelance basis since late 2016.
Richard is contributing to AirInsight since December 2018. He also writes for Airliner World, Aviation News, Piloot & Vliegtuig, and Luchtvaartnieuws Magazine. Twitter: @rschuur_aero.