China's Big Three airlines have all reported improved results for their first six months of 2021. While domestic traffic in China has recovered strongly, the situation remains fragile as new and often local cases of Covid-infections result in more restrictions. Their international network contributed only fractionally to the results. Chinese airlines reduce losses in a fragile market.
Air China:
Air China reported a net loss of RMB 6.7 billion compared to -9.4 billion in the same period last year. The operating loss was RMB 6.0 billion versus a negative RMB 6.6 billion. Revenues were RMB 37.7 billion compared to RMB 29.6 billion last year. Passenger revenues were RMB 30.9 billion, cargo RMB 4.6 billion. While maintaining a policy of strict cost control, expenses were 20 percent higher as the airline ramped up activity.
In the first six months, Air China carried 38.6 million passengers. Revenue Passenger Kilometers (RPK) increased 31.7 percent year-on-year to 58.3 million. Domestic traffic was up 70.3 percent but international traffic was down by 91.3 percent. Cargo and mail increased by 24.6 percent to 3.7 million tons. The airline flew 7.935 cargo-only flights on passenger aircraft.
On June 30, Air China Group had a fleet of 729 aircraft of which it operated 453. It took delivery of 23 aircraft in HY1, including fourteen Airbus A320neo's, four A321neo's, three A350s, and two Comac ARJ21s. It plans to take delivery of 55 aircraft this year, including 44 A320neo/A321neo's, five A350s, and six ARJ21s. For 2020, the delivery schedule sees 34 aircraft (18 A320neo/A321neo, eight A350s, 8 ARJ21s), with another fourteen planned for 2023 (five A350s, nine ARJ21s). The carrier will phase out 47 aircraft until 2024, including ten A319s, five A320ceo/A321ceo's, twelve A330s, and twenty Boeing 737NGs.
In its outlook, Air China expects the recovery of the Chinese economy and Covid-situation to stabilize and improve. "However, the Group must also see the risks and challenges: the global pandemic has not ended, pandemic control is still complicated and severe, and the industrial recovery is still strongly volatile and uncertain."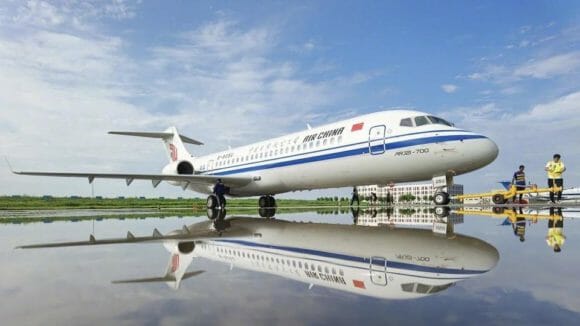 Air China will take delivery of six Comac ARJ21s this year. (Comac)
China Eastern Airlines:
China Eastern Airlines reported an RMB 5.4 billion net loss in HY1 compared to RMB 9.0 billion last year, so also improving. The operating loss was RNB 5.5 billion versus RMB 8.6 billion. Revenues increased to RMB 34.7 billion from RMB 25.2 billion, of which RMB 28.5 billion from passengers and RMB 3.9 billion from cargo and mail. Operating expenses were up to RMB 43.2 billion from 35.9 billion.
While noting an improvement in results, new Covid-cases in China and continued travel restrictions continued to hamper its recovery. "The Group enhanced its competitiveness in important markets by strengthening the deployment on long-haul routes, optimizing low-yield routes, and effectively increasing the daily utilization rate of aircraft."
China Eastern carried 44.3 million passengers, up 71.8 percent from last year. Only 0.3 million flew on the international network (-93.7 percent) and the remainder on the domestic network (+88 percent). RPKs were up 47.7 percent to 60.8 million but only thanks to domestic routes: international and regional routes were suffering massively. Freight carried was up 57.7 percent to 463 million kilograms, with cargo on international routes up 112.5 percent to 166.1 million kilograms. Its fleet flew 8.450 dedicated cargo flights in HY1.
The airline's fleet comprised 749 aircraft by the end of June. It introduced seventeen aircraft between January and June. It plans to introduce 26 aircraft this year, including thirteen Airbus A320neo-family, three A350s, five Boeing 787-9s, four ARJ21s, and the first Comac C919. In 2022, it plans for 49 deliveries (34 A320neo-family, five A350s, eight ARJ21s, two C919s). In 2023, the fleet will grow by fourteen aircraft (three A350s, nine ARJ21s, two C919s). The fleet plan excludes the fourteen Boeing MAX 8 which remain grounded until the type is recertified again. In 2021-2023, China Eastern will retire 32 aircraft: fourteen A320ceo-family and eighteen Boeing 737NGs.
China Eastern's main shareholder CEA Holding will inject RMB 10.8 billion in capital into the airline in the form of non-public shares to improve cash flow and reduce debt ratios. The airline has total liabilities of RMB 238.3 billion.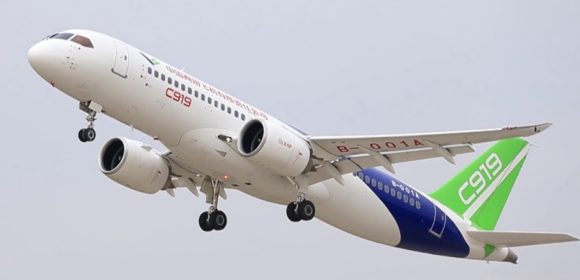 China Eastern expects to receive its first Comac C919 this year. (Comac)
China Southern Airlines:
The same pattern emerges for China Southern, which reduced its net loss to RMB 4.7 billion from RMB 8.2 billion last year. The operating loss was RMB 3.0 billion, an improvement from RMB 6.9 billion. Revenues increased to RMB 51.6 billion from RMB 39 billion, of which RMB 39 billion came from passengers and RMB 8.7 billion from cargo. Total liabilities stood at RMB 234.8 billion.
China Southern carried 54.7 million passengers, of which 54.3 million were on the domestic network and 0.3 million were on the international network. RPKs were up 45.5 percent to 84.2 million, again thanks to the recovery of domestic traffic. Cargo and mail carried grew by 11.8 percent to 739.4 million kilograms.
Despite the Covid-situation, China Southern expanded its activities at Beijing Daxing airport, introduced six express routes between Guangzhou-Shenzhen-Chengdu, and increased market share in the Greater Bay Area thanks to route optimization. It has accelerated reforms in customer developments and operations that will continue in HY2.
The Group had a fleet of 829 aircraft by June 30. It added twelve aircraft in HY1, including seven A320neo-family, two A350s, two 787-9s, and one ARJ21 while retiring ten aircraft, including one A320, four A330s, two Boeing 737NGs, and three Embraer E190s. The airline hasn't shared information on its delivery and retirement schedule.
Xiamen Airlines, in which China Southern has a 55 percent share, reported an HY1 loss of RMB 48 million compared to RMB 1.5 billion last year. Revenues were up 33.6 percent to RMB 11.4 billion.
Look here at how the Big Three fared in 2020.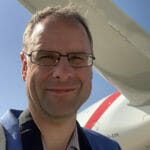 Active as a journalist since 1987, with a background in newspapers, magazines, and a regional news station, Richard has been covering commercial aviation on a freelance basis since late 2016.
Richard is contributing to AirInsight since December 2018. He also writes for Airliner World, Aviation News, Piloot & Vliegtuig, and Luchtvaartnieuws Magazine. Twitter: @rschuur_aero.