Colombia is one of the largest South American commercial aviation markets. During this COVID-19 pandemic, it was also one of the most affected due to severe Government restrictions, which halted all operations. Since September, the country has allowed some commercial activity. And we can see there was a deep need for the restoration of air connectivity.
Between August and September, the Civil Authority in Colombia (Aerocivil) saw a 15 fold increase in passengers, going from 23,762 total passengers in August to 350,727 in September. While we wait for October numbers, we assume it will point to higher recovery.  That being said, September numbers were abysmally down, compared to February, when Colombia was averaging more than three million passengers. Let's do a quick recap airline by airline.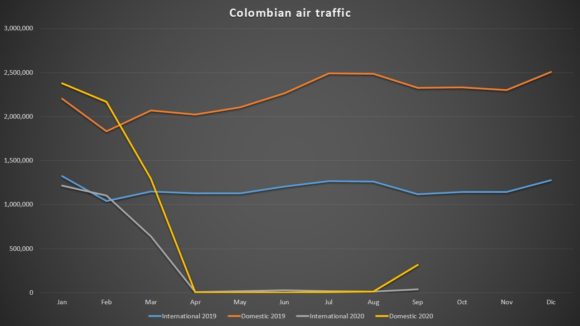 Avianca
The largest Colombian carrier transported 17.5 million passengers in 2019. So far, in 2020, it has transported 3.5 million, which is a decrease of 79.8% on a year-to-year basis.
Avianca, which is currently under a Chapter 11 reorganization in the US, had the most extensive recovery in September of the country's Top 5 airlines. That month, it transported 128,632 passengers. In April, when the pandemic hit the hardest in Colombia, and the restrictions were the most severe, Avianca only transported 253 passengers.
As of the publication of this article, Avianca is still due to publish its third-quarter financial results, which will shed some light on the centennial airline's current state. In the second quarter, though, Avianca posted a net loss of 231 million USD, after having a 78.8% decrease in its revenues. Since the airline was mostly grounded during the third quarter, the results shouldn't be more appealing.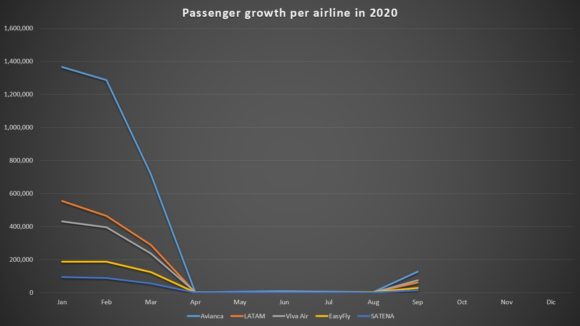 LATAM Colombia
The second most important carrier in the country is LATAM Colombia. In 2019, the airline transported 5.6 million passengers from this country. So far, it has transported 1.36 million, according to Aerocivil Colombia.  In September, LATAM transported 60,960 domestic passengers and only 69 international passengers. As is the case with every other airline in this article, October numbers should be better.
Viva Air
The Colombian low-cost carrier is still to have its V-shaped recovery like some of its peers across Latin America (for example, Viva Aerobus and Volaris in Mexico and Azul in Brazil). We expect Viva Air to have a quicker rebound from the COVID-19 pandemic as it seems to be the norm in the region. Viva transported a total of 74,815 passengers during September, meaning it had the second-best recovery after Avianca. 96% of this total came from domestic traffic.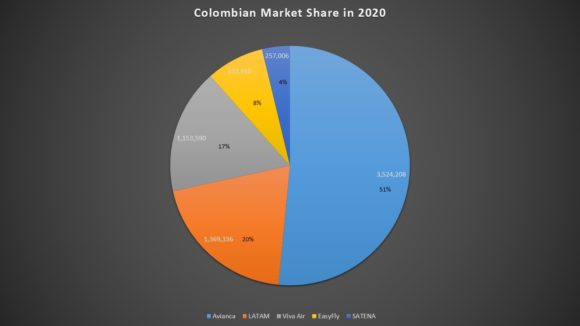 EasyFly
EasyFly is one of the turboprop operators across Latin America. Like Avianca and LATAM, it is currently in a reorganization process, although EasyFly is doing it in Colombia, rather than in the US like the other two carriers. In 2019, EasyFly transported 2 million passengers, all domestic. So far, it has transported a quarter of that, 533,910.
SATENA
SATENA is the fifth player in Colombia, a State-owned carrier that serves smaller communities. In 2019, it transported 1.13 million passengers across the South American country, serving only domestic routes. So far, it has transported 257,006 passengers. This company transported 14,362 passengers in September, an 85% decrease from how many passengers it was carrying in January.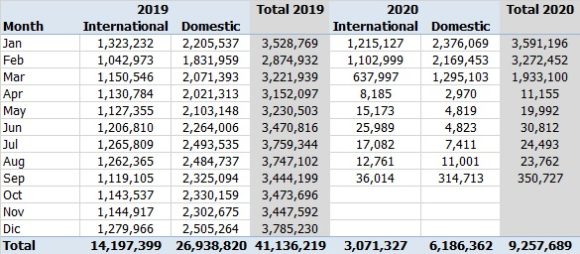 Final analysis
Colombia is still months away from a meaningful recovery as it kept Government restrictions for far too long. Now, with the second wave of COVID-19 infections across the world, it remains to be seen how will the Colombian authorities react.  Maybe in November and December, we'll see a stall in the recovery phase as the number of infections continues to surge across South America. It will be fascinating to see how the Colombian aviation recovery progresses. We'll keep you updated.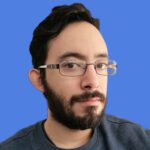 Daniel Martínez Garbuno is a Mexican journalist. He has specialized in the air industry working mainly for A21, a Mexican media outlet focused entirely on the aviation world. He has also published on other sites like Simple Flying, Roads & Kingdoms, Proceso, El Economista, Buzos de la Noticia, Contenido, and Notimex.