An adjusted pre-tax loss of $-3.9 billion or even an unadjusted loss of $-7.0 billion: the Q2 results announced by Delta Airlines confirm to troubled state the airline industry has been during the April to June quarter. As one of the first to report the numbers, it doesn't bode well for all other airlines that will bring out their results in the coming weeks.
Comparisons are useless, but for the record, the $-3.864 billion adjusted pre-tax-loss compares to a $1.998 billion profit last year. Net income was $-2.813 billion versus $1.533 billion in Q2 2019. Pre-tax income was $-7.014 billion compared to 1.907 billion.
Operating revenues stood at $1.468 billion compared to $12.536 billion last year. With less flying going on, expenses were down to $6.283 billion compared to 10.408 billion in Q2 2019.
These results don't include $3.2 billion in costs directly related to Covid-19. Of these, $2.5 billion are related to impairment costs due to the early phasing out of the Boeing 777-200s, some 737-700s, 767-300ERs, Airbus A320s, and McDonnell-Douglas MD90s. More retirements are not ruled out but depend on how the market recovers.
Big charges on airline investments
Delta's strategic investments in airlines have also come at a price. It took a $1.1 billion charge on its investment in LATAM Airlines Group and $770 million in Aeromexico, which both filed for bankruptcy protection in New York under Chapter 11. Another $200 million was written down on its investment in Virgin Atlantic, which today announced the completion of its recapitalization plan. With a combined $2 billion in charges on its partner airlines, Delta surely will rethink any options before again writing cheques in the future if it doesn't want to do 'an Etihad'.
Q2 was all about reducing costs and creating cash. Delta slashed $5.5 billion of its operating expenses, 53 percent compared to the same quarter last year. Of this, $1.9 billion was thanks to a 54 percent lower fuel bill and a 90 percent reduction in maintenance as some 700 aircraft were in storage. Some 45.000 employees joined voluntary unpaid leave.
Cash burn stood at $43 million a day at the start of the quarter but by late June has been reduced to $27 million. Total debt and lease obligations stood at $24.6 billion by the end of Q2. Debt maturities of $1.3 billion have been extended under a revolving credit from 2021 to 2022 and Delta says it has a very good handle on upcoming maturities ($450 million in December, 600 million in April, a $3.0 billion bridge loan). Cash refunds to customers stood at $2.2 billion.
Shedding commitments, Delta also canceled the purchase commitment for four Airbus A350-900s originally ordered by LATAM. Delta is in discussion with Airbus about deferring deliveries, calling the OEM 'very good partners.' Once the plan is complete it will be announced, but no orders have been taken out of the Capex.
Liquidity up to 15,7 billion
On the cash side, Delta bolstered its liquidity to $15.7 billion by the end of June. The airline raised $11 billion in additional liquidity thanks to the sale of slots, gates, and routes ($5.0 billion), sale and leasebacks (2.8 billion), a payroll support program loan (1.4 billion), unsecured notes (1.3 billion), and some $500 million through certificates and notes.
Of the $5.4 billion granted in April under the CARES act until July, $4.9 billion had been received by June, of which 1.4 billion as a low-interest loan. Delta will receive the remaining $544 million in July. By June, $1.3 billion had been recognized as a contra-expense. Delta has not decided on taking up a new government-assisted loan.
Delta saw a rise in bookings in June, but this has leveled off in July as new corona cases were discovered. This has resulted in higher no-show rates at the gates up to higher single digits. As businesses have started up again, business travelers have also resumed flying although at a cautious level. Two-thirds of the revenues were coming from new bookings.
The airline is still assessing the overlap between the early retirement and voluntary leaves of staff after October 1, when restrictions on shedding employees from CARES are no longer an issue. Customers will eventually determine how big the airline will be in Q4 of Q1 2021, but a reduction of 20 percent in staff is not ruled out. Recovery in HY2 will be 'choppy', but Delta is optimistic it will see some real improvements in demand.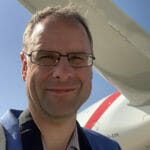 Active as a journalist since 1987, with a background in newspapers, magazines, and a regional news station, Richard has been covering commercial aviation on a freelance basis since late 2016.
Richard is contributing to AirInsight since December 2018. He also writes for Airliner World, Aviation News, Piloot & Vliegtuig, and Luchtvaartnieuws Magazine. Twitter: @rschuur_aero.