Virgin Atlantic can look to the future with a bit more optimism as it has secured a recapitalization plan worth GBP 1.2 billion. "The Plan", as it is called, still needs court-sanctioning and comes at a price: the airline will shed 3.350 jobs across all functions.
Virgin Atlantic, much dependent on long-haul transatlantic routes into the US, saw its world fall apart after the Covid-19 crisis first hit Europe and the UK and then the US. The airline kept flying dedicated cargo missions but will resume passenger services only on July 20 out of London Heathrow and Manchester. Last Spring, it announced it would give up London Gatwick while retaining its slots when air travel has fully recovered.
New funding without state aid
The debt-loaden airline had tried to apply for state aid from the UK government but has now constructed a recapitalization plan without any state backing. Founding shareholder Virgin Group will invest GBP 200 million and defer GBP 400 million in deferrals and waivers. So will do creditors, who will forego on GBP 450 million in outstanding bills. It also has the support of credit card acquirers Lloyd's Cardnet and First Data.
Fresh money is coming from a new shareholder: Davidson Kempner Capital Management will invest GBP 170 million from institutional funds.
Deliveries from Airbus rescheduled
The plan targets GBP 280 million in annual coast savings and GBP 880 million in rephasing and financing of aircraft on order. Virgin Atlantic has agreed with Airbus to defer deliveries of the A330-900s and four A350-1000s on firm order. The A330-deal was announced in Paris 2019 and included eight firm and six options, plus six leased from Air Lease Corporation (ALC) for delivery from 2024. The Airbus order book includes only eight on firm order.
Virgin inked the A350-deal for twelve aircraft in Farnborough 2016, with the first aircraft (leased from FPG Group) delivered in August 2019. All deliveries were due by 2021, but the order book shows four owned aircraft delivered out of eight on firm order. Deferrals will deal a blow to Rolls-Royce too, as it is the supplier of the Trent 7000s on the neo's and XWB 97 on the -1000s.
In 2022, the airline plans to operate a fleet of 37 aircraft including A350-100s, Boeing 787-9s, and A330-300s that will soldier on for a little longer. Out will have gone four A330-200s plus seven Boeing 747-400s.
Back to profitability in 2022
Without another crisis, Virgin Atlantic hopes to return to profitability in 2022. But it will be much leaner, with positions lost within both the airline and holiday group. Still, the airline plans to fly the same number of sectors in two years as it did last year, confirming it wants productivity to go up.
"The solvent recapitalization of Virgin Atlantic will ensure that we can continue to provide vital connectivity and competition to consumers and businesses in Britain and beyond", CEO Shai Weiss says in a statement. "We greatly appreciate the support of our shareholders, creditors, and new private investors, and together, we will ensure that Virgin Atlantic can emerge a sustainably profitable airline, with a healthy balance sheet."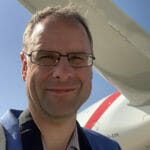 Active as a journalist since 1987, with a background in newspapers, magazines, and a regional news station, Richard has been covering commercial aviation on a freelance basis since late 2016.
Richard is contributing to AirInsight since December 2018. He also writes for Airliner World, Aviation News, Piloot & Vliegtuig, and Luchtvaartnieuws Magazine. Twitter: @rschuur_aero.