Last week we heard about the likely Delta order of 100+ MAX10s.  This is a move that is more than just about an aircraft.  There are deeper issues behind what appears to be an odd choice.
Going back to Delta's decision to order the Bombardier CSeries is probably a good place to start. Boeing reacted to that choice aggressively.  The ITC dumping case ensued (see the same link).  We did several stories about this.  Boeing succeeded in stymying Bombardier, but crucially, it created a rift with a key customer.  That rift turned out to be far more expensive than Boeing might have thought.  Since then, Delta has literally ordered hundreds of Airbus aircraft.  And not one Boeing. 
According to fleet data from ch-Aviation, this is the current active Delta 737 fleet. This is a sizable part of the airline's single-aisle fleet. We can see that it has been some years since the last delivery.  New deliveries have been from the A220 family (former CSeries) and A321ceo and neo.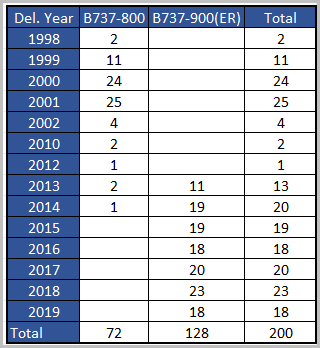 According to Airline Pilot Central information, here's what we can deduce. (note the fleet list in their list is slightly different from the table above).  Delta's mainline pilot/aircraft ratio is 16.7.  The Delta 737 fleet accounts for 23% of its pilots.  That is a big number and given the current state of the industry, a group that must be kept working.
If we graphically display the table above, we can see that Delta has been moving away from the 800NG size aircraft.  Delta's focus on the A321 simply confirms this.  Delta has been upsizing for some time.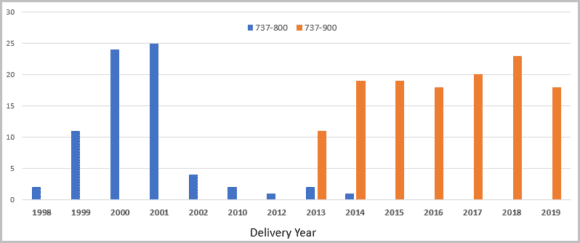 It could be argued that because of scope clause limits and the frustration that brings, the A220 is a way to solve that problem.  If you're going to pay mainline pilots to fly thick regional routes, use an aircraft with the most effective economics.  It turns out that may have been a very smart move. If you're asking if the A220 is better than the E2, the answer is not necessarily, it is just simpler to have fewer OEM vendors.

And that's where we can see why Delta is looking at the MAX10.  Is the MAX10 a reflection of the A321's performance? Absolutely not.  Delta has a lot of 737 pilots it needs to keep busy, and the next thing for them is the MAX.  Among the MAX options, the MAX10 best fits the gauge Delta has moved towards.  The 200-seater is the new 160-seater.  Just as Delta avoided the A320neo to replace its A320s.
That's the logical part of this. Delta does not want to be thought of as a surefire customer at Airbus.  Delta needs both OEMs, just as the entire industry does. Buying from both is necessary and important. 
Next comes a series of ripples that impact the industry.
MAX10 certification – during our recent visit to Boeing it was clear that there is no certainty the MAX10 gets certified this year.  That means rising pressure to allow the MAX10 to get squeezed into the MAX8 & 9 certification and avoid flight deck redesign.  Boeing now will have Delta on its side as it deals with the FAA.  Place your bets. 

Not obvious to many is the growing anxiety in Dallas, where Southwest sits waiting on MAX7 certification.  Southwest can see the MAX10 is getting attention because of the sheer weight of orders. The MAX7 not so much. The recent MAX8 conversions are to relieve fleet issues at Southwest.  But they don't necessarily want MAX8s, they need the smaller model. It is the 737-700s that are the problem: maintenance becomes more onerous as the fuselage fatigue program hits 50,000 flight cycles and elements of the package are more frequent after the initial inspection. In short, Southwest must start retiring older -700s or face serious MRO costs.
These ripples reach out and impact other airlines like Allegiant (MAX7) and potentially Ryanair (if they can get the MAX10 on terms they want).
Delta needs to support Boeing to ensure competition. Boeing needs the MAX support Delta offers. And, even as it isn't obvious, Airbus needs Boeing to remain viable.  Delta was big enough to face Boeing in the ITC case and win.  Now Delta has the chance to help Boeing move forward.  And in doing so, help duopoly stability.  There are very few airlines big enough to do this. The US big three are among them, and Delta has the critical mass to do it.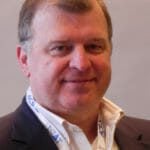 Co-Founder AirInsight. My previous life includes stints at Shell South Africa, CIC Research, and PA Consulting. Got bitten by the aviation bug and ended up an Avgeek. Then the data bug got me, making me a curious Avgeek seeking data-driven logic. Also, I appreciate conversations with smart people from whom I learn so much. Summary: I am very fortunate to work with and converse with great people.