Delta Airlines says its cash position is strong enough for the airline to be prepared for a negative cashflow for the rest of the year. If needed, Delta has enough ammunition on the table to get additional liquidity.
The US-airline presented its Q1-results on April 22. A $-422 million pre-tax loss is its first loss in almost a decade and compares to a $ 831 million profit for the same quarter last year. Revenues were down -18 percent to 8.6 billion. That's all to blame on the collapse of demand since the outbreak of Covid-19, which has resulted in an -80 percent lower domestic capacity and -90 percent on the international network.
Drastic cash reductions
Delta has taken drastic actions to reduce cash expenditures. At the end of March, it was burning $100 million a day. This will be down to $ 50 million a day by the end of Q2, or $ 5.0 billion in total. Actions taken are parking of 650+ aircraft and reducing direct maintenance costs for this fleet by 80 percent. The MD-88s will be retired with immediate effect instead of by the end of the year, a decision about the MD-90s is about to be made. The 757s and 767s will also leave the fleet. It is also looking at its regional fleet.
CEO Ed Bastian was grateful to his 37.000 of its 90.000 employees who have taken up voluntary leave and by that save the airline millions in salaries. Executive management has also taken a salary freeze. Other savings include deferring payments to lessors and closing airport lounges. Capex has been slashed by $3 billion this year.
No new aircraft deliveries
The airline is in the middle of a fleet renewal program, but Bastian has put deliveries on hold: "We have 650 aircraft on the ground, we don't need any new ones this year." To be delivered to Delta are 15 Airbus A220-100s from an order of 45, all 50 -300s, all 100 A320neo's, 30 out of 35 A330-900s, and 12 out of 25 A350-900s. Only last week, Delta said it would take delivery positions of 10 A350s from Latam.
Despite the huge losses, Delta's financial position looks strong. Since March, it raised $5.4 billion in capital, including a 3.0 billion loan, 1.2 billion in aircraft sale and leasebacks, 1.1 billion in trust certificates, and 150 million in mortgages. It has also drawn $3.0 billion under an existing revolving credit facility.
Delta has received $2.7 billion from the $5.4 billion available under the Payroll Support Program that is part of the CARES act, with the remainder due within the next three months. The company is eligible for $4.6 billion in secured loans. Bastian said Delta has requested these loans but will decide in September if they are needed. "We took them to reserve our place." If Delta needs these loans depends on the success of its private offering to raise $1.5 billion in secured notes plus another 1.5 billion new loan facility. Both will be needed to bolster liquidity.
In total, Delta had $ 6.0 billion in cash at the end of Q1. CFO Paul Jacobson, who decided not to leave Delta by the end of January after Bastian asked him to stay, said there are plenty of options to raise more capital if needed. It could draw on its unencumbered assets which at the moment are valued at $13.5 billion and of which half is the fleet. "We have a pretty good list to get equity from." Jacobson said, "we are prepared for negative cash flow for the rest of the year."
No one knows how long the effects of Covid-19 will be felt, but Bastian thinks it could be three years before Delta will see sustainable recovery. "To succeed, we will need to resize our business in the near term to protect it in the long term. It will be painful but there will also be opportunities for new strategies. It's about rescaling, streamlining, and accelerating."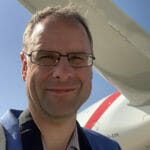 Active as a journalist since 1987, with a background in newspapers, magazines, and a regional news station, Richard has been covering commercial aviation on a freelance basis since late 2016.
Richard is contributing to AirInsight since December 2018. He also writes for Airliner World, Aviation News, Piloot & Vliegtuig, and Luchtvaartnieuws Magazine. Twitter: @rschuur_aero.