How will we fly on an airplane when the worst of Covid-19 is over? Will we fly and under what conditions? Which load factors make sense if social distancing needs to be applied? These are some of the questions the airline industry is trying to figure out as it hopes there will be an end of this pandemic somewhere sooner or later.
Dutch prime minister Mark Rutte introduced the "one-and-a-half-meter-economy"-phrase and that's essentially what is facing the airline industry today. With most countries applying more or less this distance for safe social contact, it makes flying an airliner a lot more complicated.
United Airlines graphically illustrates the situation in a press release as it explains how seating arrangements will look like until at least May 31. In single-aisle aircraft like the Embraer E-series with their 1-2 seat configuration, only the window seats will be used. By leaving the aisle-seat of the double seats vacant, 1.5-meter distance can be observed: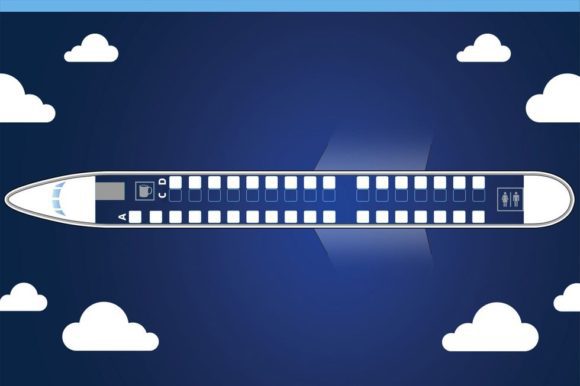 On a 737 or A320 with their 3 by 3 arrangements, the middle seats will be left vacant. Business Class seating is also different: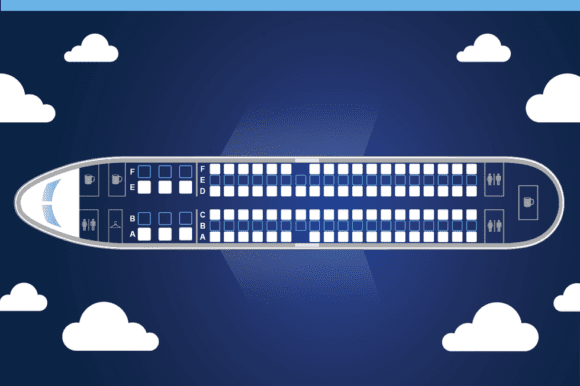 United limits seat selection, so customers are unable to select seats next to each other. Some airlines still do offer these options, but only to couples flying together. Boarding has also changed, with smaller groups of passengers allowed to enter the cabin at the same time. Thinking of it: this might be a good idea to keep anyway to avoid a return to the annoying crowding.
What to do on widebodies?
United doesn't show a graphic of a widebody cabin with their 3-3-3-, 3-4-3, or even 3-5-3 seat arrangements. This requires some ingenuity to keep a safe distance in the middle seats. Like on a 737, the aisle seats still are within 1,5 meters of each other, so a stacking configuration by using alternate seat rows could be an option here.
It makes you wonder what this means for Emirates and its huge Airbus A380-fleet. On the upper deck with First and Business Class seats stacked already (except in the middle), social distancing shouldn't be a big issue. Except that the bar at the back of the cabin might be closed… On the lower deck, the airline won't be able to sell 400+ seats anymore. Will this make sense economically?
We haven't discussed using protective measures yet, such as face masks. With some airlines (like Alitalia) they are compulsory, other airlines see passengers are wearing them out of their own initiative.
The question is: what do all these restrictions in seat usage mean for load factors and yields? By eliminating entire seat rows, there will be 30 to maybe even 50 percent fewer seats available. Load factors could go down to 50-70 percent. For Delta Airlines that is still something that needs to be figured out, CEO Ed Bastian said during the April 22 Q1-results webcast: "We will spend time in the next few months on that and will be asking those questions, to our people and to consumers. We will need opportunities to test what it takes to inspire confidence in safety. Load factors will come down, certainly in the near term."
Social distancing kills the low-cost model
Low-cost airline Ryanair has been most vocal about load factors. CEO Michael O'Leary told the Financial Times that he will rather keep his fleet grounded if he is forced by regulators to fly them at only 66 percent load factors: "Even if you do that, the middle seat doesn't deliver any social distancing, so it's kind of an idiotic idea that doesn't achieve anything anyway." With a 1.5-meter distance enforced, the low-cost model will become impossible to maintain, even IATA has warned.
It seems inevitable that post Covid-19 ticket prices will go up as will be demand higher than seat availability. "With fewer aircraft flying, it gives us an opportunity to focus more on the premium experience", Delta's Bastian said. So probably more Business Class where you sit more or less in your own cocoon versus Economy.
"Demand will be there when people feel safe to travel, both from a health and financial point of view", says Bastian. "Travel will continue, but it might not be in all of its current forms."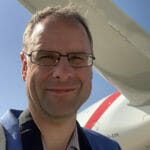 Active as a journalist since 1987, with a background in newspapers, magazines, and a regional news station, Richard has been covering commercial aviation on a freelance basis since late 2016.
Richard is contributing to AirInsight since December 2018. He also writes for Airliner World, Aviation News, Piloot & Vliegtuig, and Luchtvaartnieuws Magazine. Twitter: @rschuur_aero.