Third-quarter operating revenues at Delta Airlines have been back at 66 percent of 2019-levels, even before most of its international network and corporate travel has returned. CEO Ed Bastian called this a 'great achievement' during the October 13 results presentation. He hopes the recovery continues to 70 percent in Q4, but rising fuel prices are likely to interfere. Delta sees strong revenue recovery in Q3.
Again, Delta has been the first major US airline to present its results. It produced a $1.212 billion profit for Q3 compared to a $5.379 billion loss in 2020.  The airline prefers to compare results with 2019 when it posted a $1.419 billion quarterly profit. The operating income was $2.205 billion (2020 $-6.386; 2019 $2.071). The Adjusted pre-tax income was $1.516 billion, including $1.3 billion from the third and final payroll support PSP3 scheme. While CEO Ed Bastian said this was the first profitable quarter since 2019, actually he said the same about Q2 in July.
Total revenues stand at $9.154 billion (2020 $3.062; 2019 $12.560 billion), of which $7.191 from passengers and $262 million (+39 percent) from cargo. Adjusted operating revenues were up 30 percent to $8.3 billion. A trend first seen in Q2 has been confirmed in Q3: premium cabins outperformed the main cabin, even if corporate travel is still down at 40 percent of 2019 levels. Premium outperformed main by ten points, meaning that travelers prefer to sit in individual Business Class or Premium Economy seats rather than going 'cattle class. The airline thinks this trend will be structural. Premium Economy was introduced in 2019 but it is planned for all aircraft on its network to Europe in 2022.
Of Delta's key markets, domestic has recovered to 72 percent of revenues in September compared to 2019. Latin America was the strongest international market, with 84 percent of revenues recovered. As Europe reopened, revenues restored to 35 percent or up 20 points from Q2 and became a profitable market. The Asia Pacific is still at just 20 percent as travel restrictions continue.
Delta's Adjusted operating expenses increased 12 percent to $7.8 billion, mainly by non-fuel costs as the airline restored capacity. Fuel expenses were only five percent higher compared to the June quarter at $1.94 per gallon, but in its outlook for Q4, Delta expects fuel prices to rise to $2.25-$2.40 per gallon, which will hurt its cost performance. Thanks to a more fuel-efficient fleet and procedural changes, fuel efficiency improved by 4.2 percent compared to 2019.
Delta reduced debt by $12 billion since last October
The US major continues to have a strong financial position. It further reduced its net debt to $19.3 billion or down $12 billion since October 2020. Debt plus finance lease obligations stand at $27.8 billion. Delta completed a $1 billion debt tender offer and executed a $276 million open market debt repurchase in September. It also preferred to purchase aircraft using cash instead of financing them elsewhere. Free cash flow was $-463 million during Q3, capital expenditures stood at $619 million. The carrier ended September with $15.8 billion in liquidity and has another $2.6 billion available through a revolving credit facility.
Delta Airlines will add another two used Airbus A350-900s to its fleet in December, which are added to the seven already announced in July. Back then, it also confirmed that it would purchase 29 Boeing 737-900ERs, bringing the number of 'gently used aircraft' to 38. During the quarter, it exercised options on 30 Airbus A321neo's for delivery between 2022 and 2027. The airline will have brought back 160-170 aircraft out of storage during 2021 and 2022 to rebuild its network.
While various US airlines have suffered from staff shortages, Delta thinks it is adequately staffed as it hired over 8.000 employees for the summer operations since the beginning of this year. Despite reducing staff numbers by some 17.000 last year, It has no staff shortages to get its service levels back but it could take a few quarters to get them back to 2019 levels. However, some 2.000 pilots have retired and need to be replaced. 
Rising fuel prices are a concern
While Delta has seen strong revenue recovery in Q3, Ed Bastian adds: "While demand continues to improve, the recent rise in fuel prices will pressure our ability to remain profitable for the December quarter. As the recovery progresses, I am confident in our path to sustained profitability as we continue to provide best-in-class service to our customers, strengthen preference for our brand, while creating a simpler, more efficient airline."
As international travel into the US and elsewhere is set to recover in November, Delta expects to operate at 80 percent capacity in Q4, with operating revenues about to touch 70 percent of 2019 levels. Spring-Summer in Europe in 2022 will be 'great' and pretty much as strong as it has been this year in the US. Capital expenditures will rise to approximately $1.2 billion and so will net debt, to around $22 billion. Delta will share its views on capital cost developments during its capital market's day in December, but the target is to get better than 2019.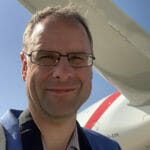 Active as a journalist since 1987, with a background in newspapers, magazines, and a regional news station, Richard has been covering commercial aviation on a freelance basis since late 2016.
Richard is contributing to AirInsight since December 2018. He also writes for Airliner World, Aviation News, Piloot & Vliegtuig, and Luchtvaartnieuws Magazine. Twitter: @rschuur_aero.