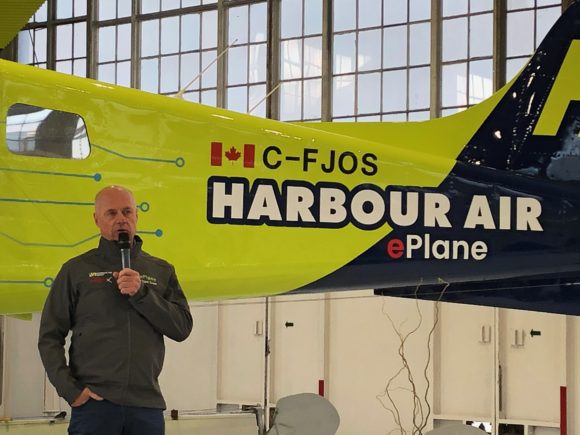 The future of electric powered aircraft took a major step this week. On Tuesday December 10, Harbour Air CEO and Founder Greg McDougall took a modified de Havilland Beaver floatplane off the Frasier River next to Vancouver International Airport on a 4 minute 10 mile flight. The aircraft was powered by the Redmond Washington based MagniX magni500 electric propulsion system. "It's a prototype for sure," said McDougall, "but in every way it's a high-tech piece of equipment, which is kind of ironic considering the airframe that it's attached to is actually one year younger than me — 62 years old."
The future plan for Harbour Air, is to work with Transport Canada & the FAA on certification with a completion time of 2021. McDougall stated that he's hoping that all the aircraft in Harbour Air's fleet of Beavers, Caravans, Otters, and Twin Otters will be converted over to MagniX's electric motors by 2023.
MagniX CEO Roei Ganzarski said Dec. 10, 2019, will go down in history as the start of the electric aviation age, and believes the e-plane will eventually revolutionize how people travel by making short- to mid-range flights more economical than driving. If it's a 30 minute flight, it will take 30 minutes to charge the battery. If it's a 60 minute flight, it'll take 60 minutes to charge. No more fossil fuels. The electricity to power the Harbour Air Beaver are from NASA-approved lithium-ion batteries that were also used on the International Space Station.
Harbour Air Electric Beaver First Flight piloted by Harbour Air CEO Greg McDougall
Question & Answer Time with Harbour Air CEO Greg McDougall & MagniX CEO Roei Ganzarski.