Embraer is "cautiously optimistic" about signing new orders this year, but is fully aware that the Covid pandemic isn't over and that the situation can change. CEO Francisco Gomes Neto said during the earnings call presentation on March 19.
The Brazilian airframer has had no order cancelations or new deferrals since talking to its customers in March last year when the initial impact of the Covid-crisis was felt. "We are proud that we had no cancelations of orders during the pandemic. Since talking to customers on rescheduling in March nothing has changed. Our backlog is stable."
At the end of December, the Commercial Aviation backlog stood at $7.6 billion or 281 aircraft, of which 132 E175s, three E190s, seven E190-E2s, and 139 E195-E2s. A few are speculative orders.
With the regional aircraft segment as the first to emerge from the pandemic, Embraer is confident that it will benefit from an interest with airlines for new and fuel-efficient aircraft. "Our commercial aircraft lead the recovery of aviation. Executive jet operations are back to ninety percent of operations."
Nothing to say on Lufthansa talks
Gomes Neto acknowledged that Embraer needs new orders to keep its backlog steady for the coming years. While pleased with the interest. he was unwilling to discuss the status of talks with Lufthansa, which has shown an interest in the E2-family. CEO Carsten Spohr confirmed this during an online symposium in February.
Lufthansa CityLine operates nine E190s and two E195s that are over ten years old. Through Helvetic, which operates services on behalf of Lufthansa subsidiary SWISS, the German airline has got an insight into how its fleet of eight E190-E2s performs. Helvetic will take delivery of its first E195-E2 in June or July.
No news either on the turboprop, except that Embraer continues the development of the new aircraft. It is looking for technical and financial partners, but "we haven't concluded any partnerships yet but are moving ahead in that sense. We hope that we can announce something in the near future", Gomes Neto said.
Net loss of 731.9 million
Embraer reported a $-731.9 million net loss attributable to shareholders in 2020 compared to $-322.2 million the previous year. Adjusted EBIT was $-100.5 million versus -5.4 million, with revenues at $3.771 billion compared to $5.463 billion in 2019.
In Q4, the airframer reduced its net loss to $-3.3 million compared to -209.8 million the year before. Revenues in the final quarter stood at $1.841 billion compared to $2.085 billion in the final months of 2019. By segment, Commercial Aircraft revenues dropped from $2.234 billion to $1.114 billion and at Executive Jets from $1.397 billion to $1.071 billion.
The airframer benefitted from a stream of deliveries in the last three months, with 28 commercial aircraft and 43 business jets. This brought total commercial aircraft deliveries to 44 (89 in 2019) and 86 executive jets (109). Defense & Security boosted revenues by 68.1 percent in the final quarter, but during 2020 this segment too saw 13.5 percent lower revenues. Services and Support suffered a drop in revenues from $1.246 billion to $920 million.
Embraer's results include $223 million in special items, of which $69.2 million in restructuring costs including workforce reductions at Sao Jose dos Campos, $52.6 million in additional negative provisions expected credit losses from commercial aircraft customers and a $101.2 million recognition of depreciation and amortization costs when Commercial Aircraft was expected to continue as a separate entity with Boeing Brazil. All costs involved with the failed merger have been incurred last year.
Embraer reduced its R&D expenses from $49.4 million to 29.8 million. Net debt increased to $1.695 billion from $612.4 million, with total debt at $4.448 billion versus $4.549 billion.
Gomes Neto stressed that Embraer is at the start of a transformation. "This is not the Embraer we were a few years ago and this is not how we will be in a few year's time." The transformation targets 2025 as the year of completion.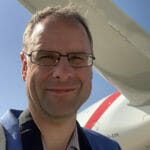 Active as a journalist since 1987, with a background in newspapers, magazines, and a regional news station, Richard has been covering commercial aviation on a freelance basis since late 2016.
Richard is contributing to AirInsight since December 2018. He also writes for Airliner World, Aviation News, Piloot & Vliegtuig, and Luchtvaartnieuws Magazine. Twitter: @rschuur_aero.