Etihad reported a $758 million core operating loss for HY1 as it too has been hit hard by the Covid-crisis. Revenues were $1.7 billion, down from 2.7 billion from last year, it said on August 5.
Losses were partially offset by 27 percent lower direct operating costs to $1.9 billion and $0.4 billion lower general and administrative costs.
The UAE flag carrier parked 70 percent of its fleet in Q2 and flew only 3.47 million passengers, a reduction of 99 percent. Operating revenues were down to $1.67 billion, of which only 0.4 billion in Q2. Passenger revenues were $1.01 billion, of which $0.06 billion in Q2.
Like many airlines, Etihad switched passenger operations to cargo-only flights. This boosted cargo revenues to $0.32 billion in Q2 or 0.49 billion in the first six months. Cargo tonnage in Q2 was lower than in Q1, which translates the reduction in belly-hold capacity available.
Etihad operated just 40 of its 97 aircraft in Q2, with all Airbus A380s in storage since March 24. The A320s, Boeing 787s, and 777-300ERs have been used to complement the 777Fs for cargo-only services.
The Abu Dhabi-based airline expects to operate at 50 percent capacity in August and September as traffic slowly recovers, but with most long-haul services still unavailable the recovery will be slow. Etihad has used the groundings to execute an extensive maintenance program on its fleet. It hasn't announced any permanent groundings although the A380s are likely to remain inactive for the remainder of this year and well into 2021.
As part of its transformation plan, CEO Tony Douglas confirms that Etihad has had to reduce its workforce by "several thousand", without providing further details except for saying several business units have been affected. A 25 to 50 percent salary reduction has been imposed on the remaining staff.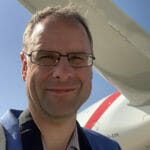 Active as a journalist since 1987, with a background in newspapers, magazines, and a regional news station, Richard has been covering commercial aviation on a freelance basis since late 2016.
Richard is contributing to AirInsight since December 2018. He also writes for Airliner World, Aviation News, Piloot & Vliegtuig, and Luchtvaartnieuws Magazine. Twitter: @rschuur_aero.