Virgin Atlantic has de-facto got itself a feeder airline, by agreeing to take a stake in UK regional airline Flybe. The deal secures the future of Flybe, whose history goes back to November 1979 as Jersey European Airways, but the name will disappear in due course after 17 years.
Flybe has seen some difficult years recently, with higher fuel prices and a weak pound sterling eating into its profits. In order to cut costs the Exeter-based airline already reduced capacity last year, but circumstances worked against her. This resulted in a weak cash position that threatened the airline's future, becoming even more uncertain as Brexit looms.
In a rescue plan announced on January 11, Flybe is taken over by a consortium called Connect Airways. This consists of Virgin Atlantic's Virgin Travel Group (30%), Stobart Aviation (30%) and Cyrus Capital Partners through its company DLP Holdings (40%). Connect offered to pay one pence for each Flybe share equivalent to £2.2m, but raised the offer to £2.8m on January 15 after Flybe failed to draw funds under a bridge facility agreement. It also immediately released  £10m to support daily business, while banks have assisted to improve liquidity.
Cyrus is described by Bloomberg as a 'hedge fund sponsor' and has done business with Virgin Group by helping to sell Virgin America to Alaska Airlines. Stobart Aviation until now is part of Stobart Group that invests in infrastructure projects. Its aviation branch consists of Stobart Air, that operates under franchise agreement to Flybe and Aer Lingus, ground handling service through Stobart Aviation Services as well as owning London Southend Airport. Stobart also has its own leasing company Propius. As part of the agreement Cyrus will purchase both Stobart Air and Propius for £40m while providing additional facilities.
Connect will provide a £20m bridge loan as working capital to Flybe to guarantee short-term operations. Once the acquisition has been fully secured (expected early in Q2) another £80m will be invested for operations and growth. Flybe will operate under its own UK AOC under the Virgin brand.
"By combining to form a larger, stronger, group, we will be better placed to withstand these pressures. We aim to provide an even better service to our customers and secure the future for our people," Flybe CEO Christine Ourmieres-Widener says in the press release.
For Virgin, there is a lot to gain from the Flybe take-over. Its London Heathrow and Manchester hubs will be fed from Flybe's UK, Ireland and EU network. It also should generate more (domestic) traffic for Virgin's partners Delta (which owns 49% of Virgin) and Air France/KLM (31%, to be completed this year). "Together, we can provide greater connectivity to our extensive long haul network", says CEO Shai Weiss. "Cyrus, Stobart Group and Virgin Atlantic believe that combining Flybe and Stobart Air in a more integrated commercial cooperation with Virgin Atlantic's long-haul operations will create a fully-fledged UKnetwork carrier under the Virgin Atlantic brand", Flybe writes in a statement to its shareholders.
In its latest report available (HY1 2018/19, released on November 14), Flybe reported a 9% reduction in capacity, -2.4% lower group income (£409.2m) and a net profit of £7.4m, down from £16.1 the year before. Its net debt increase to £82.1m, reflecting currency and seasonal fluctuations.
In order to reduce costs, Flybe has slashed the number of aircraft from 88 in March to 70, building the fleet around the Bombardier Q400 (54) and the Embraer E175 and withdrawing the bigger E195s by 2020.
Flybe also announced it has sold slots at London Gatwick for £4.5m to IAG's low-cost airline Vueling.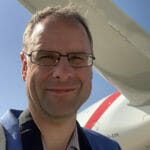 Active as a journalist since 1987, with a background in newspapers, magazines, and a regional news station, Richard has been covering commercial aviation on a freelance basis since late 2016.
Richard is contributing to AirInsight since December 2018. He also writes for Airliner World, Aviation News, Piloot & Vliegtuig, and Luchtvaartnieuws Magazine. Twitter: @rschuur_aero.