Of Europe's three big airline groups, International Airlines Group (IAG) has been the only one to record a profit for Q1. On May 10, IAG announced a profit of EUR 135mln, down 60.3 percent on last year's EUR 340mln.
The result fares favorably compared to Air France-KLM and Lufthansa Group's Q1 losses of around EUR 330mln announced over the last weeks. Yet, IAG has to deal with the same fuel and foreign currency headwinds, CEO Willie Walsh noted.
IAG group passenger revenues in Q1 grew 5.2 percent to EUR 4.646mln, including cargo and, other revenues by 5.9 percent to EUR 5.318bln. Passenger unit revenues were down 0.8 percent to EUR 6.16, or even -1.4 percent at constant currency.
IAG never discloses its results by airline, which makes it difficult to specify them for British Airways, Aer Lingus, Iberia, Vueling and LEVEL. However, in its Q1 presentation, it identifies the operational margin, which on average improved by 2.5 percent. By airline, the picture is different: BA +7.6, Iberia -2.0, Aer Lingus -9.4 and Vueling -17.4 percent. LEVEL is not showing.
Higher revenues were offset by 10.7 percent higher expenditures, including 22.8 percent higher fuel, oil, and emission costs to EUR 1.366bln. Last year IAG benefited from fuel hedging profits, but it didn't in the first three months of 2019.
Notably, engineering and aircraft costs increased by 25 percent to EUR 485mln.
IAG seat capacity (ASK) grew by 6.1 percent. The biggest growth was at Aer Lingus (14.2 percent), Iberia (11.1 percent), and LEVEL, whose Q1 results aren't comparable to last year's as back then the short-haul business didn't exist.
In its guidance for the year, IAG expects its 2019 operating profit before exceptional items to be on par with 2018 (EUR 3.230bln). That's is at current fuel prices and exchange rates, with pax unit revenues expected to be flat and non-fuel costs to be reduced.
Capacity growth for the year has been revised from 5.9 to 5.3 percent but varies by airline. BA is set to grow +2 this year, Vueling +4.7, Air Lingus +5.1, Iberia + 8.5 and LEVEL +94.5 percent. Vueling and LEVEL are expected to contribute most to the capacity increase.
In case you missed it, check our feature on LEVEL published on April 10:
Insight LEVEL – IAG's low-cost testbed airline (update July 16)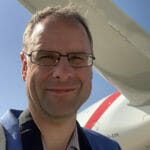 Active as a journalist since 1987, with a background in newspapers, magazines, and a regional news station, Richard has been covering commercial aviation on a freelance basis since late 2016.
Richard is contributing to AirInsight since December 2018. He also writes for Airliner World, Aviation News, Piloot & Vliegtuig, and Luchtvaartnieuws Magazine. Twitter: @rschuur_aero.