Global passenger traffic has recovered in 2022 to 68.5 percent of pre-pandemic levels, up from 41.7 percent in 2021. Domestic travel is back to 79.6 percent from 68.7 percent in the previous year. International revenue passenger kilometers (RPK) recovered by 152.7 percent to 62.2 percent, IATA reported today. Cargo is past the boom of the pandemic years. Cargo tonne-kilometers (CTK) were down by eight percent in 2021 and 1.6 percent below 2019. IATA: passenger traffic up and cargo demand down in 2022.
The recovery followed the relaxation of travel restrictions. Although January and February 2022 were still dominated by the Omicron variant that kept people wary of flying, demand changed from the second quarter and really surged from mid-2022. Airlines responded by adding capacity, with available seat kilometers (ASK) back to 71.9 percent of 2019 levels.
RPKs were uneven across the world, IATA notes: "North American carriers led the industry by achieving close to pre-pandemic passenger traffic levels with total RPKs 11.3 percent under 2019 volumes, followed by Latin American and European carriers at 14.2 percent and 22.2 percent, respectively, below 2019 levels." Asia Pacific was still 54.4 percent below 2019 last year as countries took a cautious approach to reopen borders for international travel, notably China.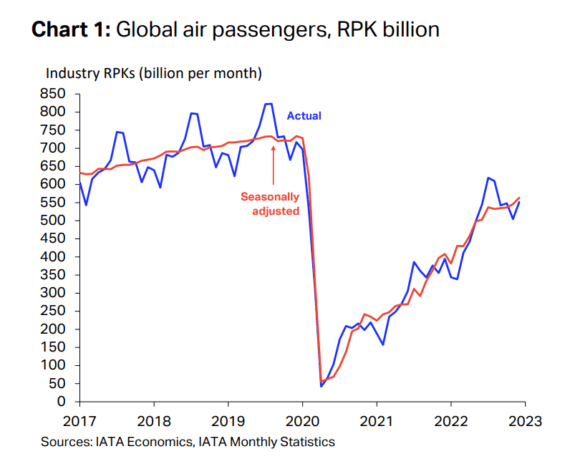 In December, industry-wide RPKs increased by 39.7 percent over 2021 and reached 76.9 percent of pre-pandemic levels. Global load factors were just 1.1 percent down on 2019 to 81.1 percent. Domestic travel grew by 2.6 percent but International travel was up by 80.2 percent. In Brazil, RPKs reached 94.6 percent, in the US 94.1 percent, in India 85.7 percent, in Australia 81.2 percent, and in Japan 74.1 percent.
International
International traffic recovered the strongest in December in the Asia-Pacific region, with RPKs up by 302.7 percent year on year to 79.1 percent of 2019. North America reported 61.3 percent growth year on year and is now just 6.9 percent below 2019 levels. RPKs in Europe were up 46.5 percent from 2021 and are down 14.5 percent compared to 2019. For Latin America, the recovery was 37 percent to 18.4 percent of pre-pandemic levels. The Middle East reported 69.8 percent growth to -16.3 percent of 2019. The recovery in Africa was 118.8 percent, with total air travel only 14.2 percent down from 2019.
Director General Willie Walsh said: "The industry left 2022 in far stronger shape than it entered, as most governments lifted Covid-19 travel restrictions during the year and people took advantage of the restoration of their freedom to travel. This momentum is expected to continue in the New Year, despite some governments' over-reactions to China's re-opening."
Cargo slump
Walsh was less positive about air cargo: "In the face of significant political and economic uncertainties, air cargo performance declined compared to the extraordinary levels of 2021. That brought air cargo demand to 1.6 percent below 2019 levels."
Compared to 2021, cargo tonne-kilometers were down by 8.0 percent. In December, available cargo tonne-kilometers contracted by 2.2 percent. This is the tenth consecutive month that the numbers were lower month by month as demand has softened due to inflation, the effects of the war in Ukraine on global trade, and the high US dollar.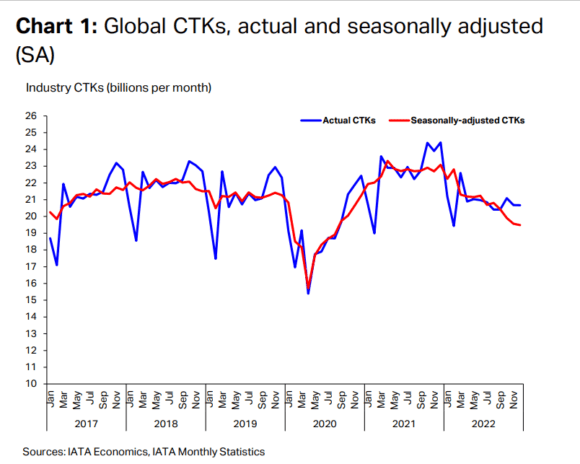 Global CTKs were down by 15.3 percent year on year in December to 20.6 billion. Latin America was the strongest region and the only one that saw year-on-year growth, of 2.3 percent. North America was down by 8.5 percent on 2021, Europe 17.9 percent, the Middle East by 14.4 percent, and Africa by 10 percent. Between regions, air cargo demand between North America and Asia is the only one to remain above pre-pandemic levels.
For 2023, IATA expects CTKs to drop further, but not immediately, says Willie Walsh: "The continuing measures by key governments to fight inflation by cooling economies are expected to result in a further decline in cargo volumes in 2023 to -5.6 percent compared to 2019. It will, however, take time for these measures to bite into cargo rates. So, the good news for air cargo is that average yields and total revenue for 2023 should remain well above what they were pre-pandemic. That should provide some respite in what is likely to be a challenging trading environment in the year ahead."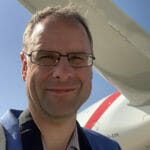 Active as a journalist since 1987, with a background in newspapers, magazines, and a regional news station, Richard has been covering commercial aviation on a freelance basis since late 2016.
Richard is contributing to AirInsight since December 2018. He also writes for Airliner World, Aviation News, Piloot & Vliegtuig, and Luchtvaartnieuws Magazine. Twitter: @rschuur_aero.