Based on the slower than expected recovery in recent weeks since June, global passenger traffic is not to return to pre-Covid-19 levels until 2024. That's a year later than anticipated this Spring, IATA said on July 28 in its latest market outlook. Especially long-haul will remain weak in the next few years. As for short-haul, passenger numbers will be rising higher than Revenue Passenger Kilometers (RPKs), but here too recovery will take a year longer until 2023 now.
June has shown an upturn in traffic as many airlines increased services and frequencies but global RPKs were still -86.5 percent lower compared to last year, only a slight improvement over -91 percent in May. The driver of this higher average was domestic travel inside China, which recovered to -35.5 percent. At -80.1 percent, US domestic saw a slight improvement as has been confirmed by airlines in their recent Q2 presentations. New outbreaks in July across the US have had a negative effect on travelers' confidence and have translated in fewer bookings and more cancelations. The same has happened in China.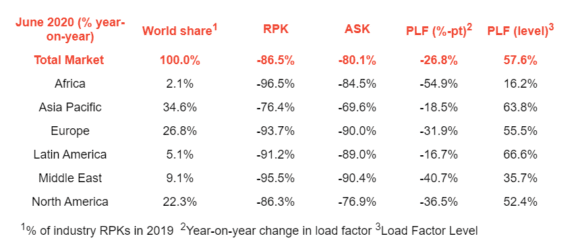 By region, Africa has seen the biggest drop in average RPKs in June to -96.5 percent followed by Europe at -93.7 percent. Asia Pacific is the best performing region at -76.4 percent.
By international traffic, Africa also takes the top spot at -98.1 percent and a record-low load factor of just 8.9 percent. Next is North America, with international traffic down by -97.2 percent, followed by Asia Pacific at -97.1, Europe at -96.7, Latin America by -96.6 percent, and the Middle East at 96.1 percent.
Domestic RPKs were down by an average of -67.6 percent, with Australia showing the biggest drop at -93.8 percent followed by Brazil at -84.7, the US by -80.1, Japan by -74.9, Russia by -58.0, and China by -35.5 percent.
"Passenger traffic hit bottom in April, but the strength of the upturn has been very weak. What improvement we have seen has been domestic flying. International markets remain largely closed", says IATA Director General Alexandre de Juniac. "Consumer confidence is depressed and not helped by the UK's weekend decision to impose a blanket quarantine on all travelers returning from Spain. And in many parts of the world infections are still rising. All of this points to a longer recovery period and more pain for the industry and the global economy."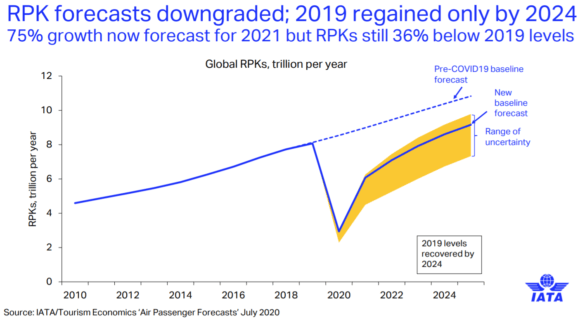 IATA is cautious about a quick return of business travel as it expects corporate travel budget to be restricted and companies reluctant to put their staff on an airplane when digital platforms are a useful alternative for meeting personally.
IATA also presented the latest cargo figures. Demand measured in cargo-tonne kilometers (CTKs) was down -17.6 percent compared to last year and a slight improvement over May's 20.1 percent. Capacity was 34.1 percent lower than in June 2019 and almost on par with 34.8 percent in May. Belly capacity was 70 percent lower as airlines have reduced services.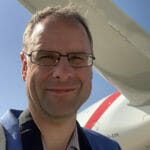 Active as a journalist since 1987, with a background in newspapers, magazines, and a regional news station, Richard has been covering commercial aviation on a freelance basis since late 2016.
Richard is contributing to AirInsight since December 2018. He also writes for Airliner World, Aviation News, Piloot & Vliegtuig, and Luchtvaartnieuws Magazine. Twitter: @rschuur_aero.