The Spanish airline market is set for more consolidation as independent Air Europa will be bought by Iberia for EUR 1 billion, Iberia's parent company International Airlines Group (IAG) announced on November 4. Subject to regulatory approval, the deal is expected to be finalized only in the second half of 2020.
The purchase of Air Europa is a strategic investment to strengthen Iberia's position at its Madrid hub, which IAG wishes to transform into a gateway to Latin America and the Caribbean. Iberia itself has a strong presence in this traditionally Spanish-speaking region, but its position should get stronger even more as it integrates the Air Europa network. The airline flies to 69 destinations.
Established in 1986 by Banco de Bilbao and owned by Globalia since 1998, Air Europa also operates a Spanish domestic as well as a pan-European network with a fleet of Embraer E195-LRs, Boeing 737-800s, Airbus A330-200s and -300s, and Boeing 787-8s and 9s. Last year's net profit was EUR 100 million on revenues of EUR 2.1 billion, flying 11.8 million passengers.
Iberia's IB OPCO Holding will pay Globalia EUR 1 billion in cash through external debt to purchase Air Europa. IAG expects significant cost and revenue synergies to come from the acquisition and integration within the group. Cost savings can be made on sales, administrative expenses, procurement, handling, and distribution costs. Additional revenues may come from codeshare and sharing frequent flying programs, optimizing the flight schedule at Madrid. The full effect of integration and implementation costs will be spread out until 2025, but earnings will be accreditive in the first full year following completion.
The combination of Iberia-Air Europa, together with Iberia Express, Vueling, and LEVEL, will give IAG a very strong presence in Madrid and at other airports in Spain. This will certainly need to be looked at by the Spanish and European competition authorities. IAG has reserved a EUR 40 million break fee for Air Europa in case the transaction fails to receive approval.
Madrid wants to be 'true rival'
IAG wants Madrid to become a 'true rival' to Europe's other major airports. Madrid Barajas Adolfo Suarez Airport handled 57.8 million passengers in 2018 following two years of rapid growth since 2016. Between 2008 and 2016, traffic had been steady at around 49-50 million passengers.
If IAG and the airport wish to get at the same level as the Big Four in Europe, they still have some work to do. London Heathrow leads this list with 80 million passengers in 2018, ahead of Paris Charles de Gaulle (72.2 million), Amsterdam Schiphol (71 million), and Frankfurt 69.5 million).
According to airport data, most traffic at Madrid was generated last year by its home carrier Iberia with 12 million international and 3.5 million domestic passengers, or 27 percent share. Air Europa came in second with 5.3 million international/3.3 million domestic and a 15 percent share, bigger than Ryanair. Iberia Express flew 2 million international and 3.7 million domestic, with a 10 percent share. Vueling had only a 2 percent share with 1.3 million passengers, the majority on Madrid's number 1 route to Barcelona.
Update: at its Capital Market's Day on November 8, IAG gave a few extra details about its plans with Air Europa. Initially, the brand will be retained.
The long-haul Airbus A330-fleet will be gradually retired until 2022 and replaced by Boeing 787-9s, which will grow from 6 this year to 16 in 2020 and 21 by 2022. Air Europa plans to reduce its 737-800-fleet from 20 this year to 9 in 2025 while introducing 3 MAX 8s next year and growing the fleet to 25 in 2025. The Embraer E195s will leave the fleet in 2022. The ATR-fleet will be reduced from 11 to 7.
On routes between Europe and Latin America, Air Europa currently has a 7 percent market share and IAG 19 percent, which will become a combined 26 post-deal.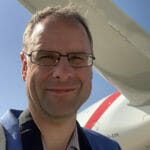 Active as a journalist since 1987, with a background in newspapers, magazines, and a regional news station, Richard has been covering commercial aviation on a freelance basis since late 2016.
Richard is contributing to AirInsight since December 2018. He also writes for Airliner World, Aviation News, Piloot & Vliegtuig, and Luchtvaartnieuws Magazine. Twitter: @rschuur_aero.