Icelandair Group plans to make a decision on the replacement of its Boeing 757s no later than early 2023.  The airline has issued requests for proposals to both Airbus and Boeing and engine manufacturers. "We started the fleet process and the goal is to conclude this in the coming months", CEO Bogi Nils Bogason said on October 21 during the Q3 earnings webcast. Icelandair closes in on fleet renewal decision.
The announcement sounded like that of a year ago, when Bogason said in an interview in September 2021 that a decision would be made by the end of that year. That timeline slipped, but Bogason confirmed in February in the 2021 results presentation that it had completed a review of its long-term fleet requirements. This has recently been followed up by the requests for proposal. The airline plans to induct new aircraft from 2025 through 2030.
Icelandair said in February that it wished to phase out it's 13 active 757-200s and two -300s no later than 2026. Bogason said that more Boeing MAX or the Airbus A321LR could be potential candidates. Buying more MAX would make sense from a standardization standpoint, as the airline already operates ten MAX 8s and four MAX 9s. Icelandair has purchase agreements for four more MAX 8s, of which one was delivered in Q3, another will come in Q4, and two in Q1 2023. Another two leased MAX 8s are scheduled for delivery in Q4 2023.
Icelandair reported a strong Q3 with "robust results on the back of strong post-pandemic travel demand during a period where Icelandair's business model proved its worth." It produced a $57.8 million net profit compared to $19.6 million in 2021. Revenues were $486.7 million, up from $257.5 million last year. Like many airlines, revenues surpassed those of any previous quarter in the airline's history.
Operating expenses increased to $360.3 million from $217.1 million, mainly caused by higher 78 percent higher fuel prices to $137 million. Cash flow from operations was $-49 million. The operating profit was $92.7 million versus $8.2 million. Thanks to operating more fuel-efficient MAX aircraft, unit fuel costs improved. Icelandair hedged 25 percent of fuel in Q3 and is hedged at 36 percent in Q4 and 29 percent in Q1 2023.
Looking at the first nine months, Icelandair produced a net profit of $11.9 million compared to $-65.4 million in 2021. Total revenues were $974.3 million versus $392.4 million, with an operating profit of $35.6 million compared to $-100.3 million. Liquidity stood at $373 million by the end of September.
Transatlantic recovered quicker than expected
The airline operated at 82 percent of its 2019 capacity. Passengers carried more than doubled to 1.4 million at a record-high load factor of 87.7 percent. The transatlantic market even saw an 89 percent load factor and recovered quicker than expected. It contributed 43 percent to Icelandair's passenger numbers. Bogason was happy with how the network worked this summer, highlighting how well the new Rome service connected in Keflavik to the US network. Also performing well is Icelandair's premium cabin, which recorded record utilization.
On-time performance dropped to seventy percent as Icelandair was confronted with staffing issues at major airports. For example, it flew its own crew to Amsterdam Schiphol to manage luggage handling. Its Keflavik base operated consistently.
In line with the global trend, cargo is cooling down a bit from the peaks of 2020 and 2021. Cargo revenues dropped to $18.3 million from $21.8 million and freighter tonnes kilometers from 35.1 million to 29.7 million, mainly due to lower levels of fish. Yet, the airline continues to grow its full-freighter fleet. It took delivery of one Boeing 767-300F on operating lease in Q3 and will take another one in Q4. From January, Liege (Belgium), New York JFK, Chicago, and Los Angeles will be added to the cargo network.
Bookings from North America to Iceland remain strong for the coming months. The airline expects to grow capacity to 98 percent of 2019 levels in Q4 and even-higher revenues compared to Q3. The full-year EBIT margin should be between one and three percent. Icelandair hasn't finalized its 2023 summer schedule yet.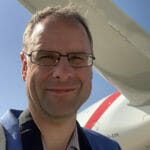 Active as a journalist since 1987, with a background in newspapers, magazines, and a regional news station, Richard has been covering commercial aviation on a freelance basis since late 2016.
Richard is contributing to AirInsight since December 2018. He also writes for Airliner World, Aviation News, Piloot & Vliegtuig, and Luchtvaartnieuws Magazine. Twitter: @rschuur_aero.