On March 4 we reported on the signing of the new aviation agreement between the European Union and Qatar. From the European Commission press release, it was not clear what the implications of the agreement are. With some delay, Airinsight has now received a reply from an EC spokesperson. Insight: the EU-Qatar agreement explained.
The new agreement is said to be a huge improvement over previous bilateral agreements of individual EU countries and Qatar, with European Commissioner Violeta Bulc saying: "The agreement sets out ambitious standards for fair competition, transparency or social issues. It will provide a level playing field and raise the bar globally for air transport agreements."
Yet, the exact implications are not clear to everyone. At the presentation of the annual results on February 14, Lufthansa CEO Carsten Spohr said that the agreement would not be negative for Europe and Germany, but he added that Lufthansa had specifically asked the EC if they were sure the deal was right for everyone.
This is what the EC spokesperson replied to our questions:
The agreement mentions 'provisions on fair competition': what are they and how is guaranteed that Qatar/Qatar Airways is not having an unfair position, as has been seen by many in the EU aviation industry? 'Fair competition' is often mentioned in the context of state aid. What has been agreed on this, again one of the major issues as Qatar Airways is concerned?
"The fair competition provisions of the agreement are designed to avoid abuses in the market: they include the respect of antitrust provisions and the prohibitions of discrimination, unfair practices, and subsidies which adversely affect the fair and equal opportunity of the air carriers of the respective parties to compete.
Moreover, it includes a clear definition of "subsidy" in line with the forthcoming EU Regulation on safeguarding competition in international air transport and WTO rules; transparency provisions to monitor and ensure obligations are fully respected, and enforcement mechanisms to adopt measures swiftly if the provisions are not respected. This type of clause is currently not included in Member States' bilateral air transport agreements with Qatar."
Five countries (Germany, France, Italy, Belgium, and The Netherlands) will have to gradually open their market to Qatar over a five-year period. To which level?
"Already today, 27 EU Member States have bilateral aviation agreements with Qatar. These agreements have already completely liberalized direct traffic between Qatar and EU Member States except for five Member States where some restrictions are still in place (BE, DE, FR, IT and NL). However, none of the existing agreements provide for a level playing field as they do not cover fair competition, environment, social issues, transparency, etc. or include strong enforcement mechanisms.
The agreed text, therefore, contains all the demands and safeguards requested by these carriers. For example, it provides for the gradual opening of the market under the exact conditions requested by these countries and carriers: over a period of five years and protecting their hubs (Amsterdam, Frankfurt, Munich, Paris) by applying a slower pace of opening. At the end of the 5-year transition period, the direct passenger and cargo traffic will be fully opened."

What has been agreed on regarding traffic rights (for example 5th freedom rights) to Qatar Airways from within the EU?
"At the end of the 5-year transition period, the direct passenger and cargo traffic (so-called 3rd and 4th freedom rights) will be fully opened. The agreement will not grant any 5th freedom rights for passenger services. It will grant very limited 5th freedom traffic rights for all-cargo services with some geographical restrictions."
How will EU airlines benefit from the new agreement: what will Qatar allow that until now is not included in the previous agreement?
"Currently there is only a patchwork of bilateral agreements of EU Member States which collectively fall short in addressing many issues which are important to EU airlines, such as fair competition or social matters. One of the main achievements of this agreement is to ensure a level playing field and a competitive environment without distortions or abuses. Moreover, in all areas, the agreements guarantee reciprocity and provide EU carriers the same opportunities as for Qatari carriers."
How will the EU check that Qatar (Airways) adheres to social issues and what is done if Qatar doesn't meet targets?
"The agreement contains provisions on social matters in line with those included in EU international trade agreements. The parties commit to ensuring that the rights and principles in their respective legislations are effectively enforced; commit to continue improving their labor laws and policies toward high levels of labor protection in aviation; reconfirm their commitments to respect, promote and effectively implement and apply the Fundamental Rights and Principles at Work; undertake best efforts to ratify those ILO fundamental conventions they have not ratified yet; Agree to cooperate on labor matters within the scope of the agreement and could discuss these matters in the Joint Committee. Not a single existing bilateral air transport agreement of EU Member States includes such provisions. All these issues can be discussed at the meetings of the Joint Committee set up by the agreement."
If this all is enough to silence doubters remains to be seen. As Spohr has said – other European airline CEO's have been silent on the matter – it is about how the EC polices the package. The EC must ensure that what's written down on paper is actually how the agreement is working out in reality.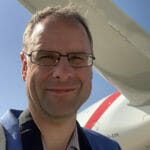 Active as a journalist since 1987, with a background in newspapers, magazines, and a regional news station, Richard has been covering commercial aviation on a freelance basis since late 2016.
Richard is contributing to AirInsight since December 2018. He also writes for Airliner World, Aviation News, Piloot & Vliegtuig, and Luchtvaartnieuws Magazine. Twitter: @rschuur_aero.