A number of times during Thursday's Airlines for Europe (A4E) Aviation Summit, CNN's Richard Quest tried to tease airline CEOs with almost the same question: is your lobby effective enough? Is Airlines 4 Europe taken seriously enough? Posing the question is answering it, although the bosses think their lobby makes a difference. But is it?
A4E's online summit celebrated its first five years. Formed to "establish to a united voice in Brussels and help define a future vision for EU aviation", it represents sixteen or seventy percent of European air traffic. But as Quest noted (and the author can confirm, having attend three summits in the past years), most of the topics raised by the airline leaders are the same: (unfair) taxation, the EU261 rule on consumer compensation, sustainability, and, like a never-ending story, the Single European Sky (SES) and Air Traffic Management.
They were all part of this year's summit, first during the press conference at later during the Quest-led CEO Debate. Except for an additional topic: Covid, and how to get out this crisis? Last year, at the last 'live' summit in March, Italy had just gone in lockdown and airlines hoped it would be a problem that could be dealt with in some three weeks. It has played out differently, and as Chairman and easyjet CEO Johan Lundgren said, European airlines are expected to suffer €18.1 billion in losses this year. That's the biggest of all regions as Europe is highly dependent on connecting traffic between Asia and the Americas.
'European air travel needs to be reopened by July'
Lundgren, Lufthansa's Carsten Spohr, IAG's Luis Gallego, Ryanair's Michael O'Leary, and Air France-KLM's Ben Smith were unanimous in calling on EU governments to restore air travel in a safe and measured way by July 1 at the latest. "All airlines have seen strong bookings in the last 6-8 weeks, particularly for the second half of June, July, and August", O'Leary said. "What we need now is governments to allow that recovery to build by putting in place the digital green certification. It can be rolled out today if you are vaccinated and by persuading other governments, notably the UK and Irish, we stop restricting vaccinated passengers. "The digital Covid-certificate will be a helpful and essential step. "We have to make clear to EU leaders that it is implemented", said Lundgren.
The same topics have been discussed at A4E summits in the past years. This is 2019. (Richard Schuurman)
But these calls on leaders have been made before. A4E has been vocal on numerous occasions to push for the reopening of traffic and lifting of restrictions, urging governments to base decisions on facts and data rather than opinions. IATA has done the same, last year under Alexandre de Juniac and since early this year under Willie Walsh. Like leading US and UK airline bosses, Walsh called on the G7 leaders to reopen the transatlantic between the UK and US when they gather in Cornwall this weekend. The outcome has been disappointing to the industry. The US and UK will set up a task force to further study options, something Gallego brushed off as "we have had taskforces before."
Governments don't seem impressed by urgent calls
It remains to be seen what happens until July and if EU leaders will reopen air travel as requested by A4E and IATA, but if the experience is something to go for the governments don't seem very impressed by the continuous and urgent requests sent to them every other week or so. Or during the last five years, for instance, as far as the Single European Skies is concerned. In his role as A4E Chair last year, Willy Walsh was most critical of the lack of results, stating that airlines still have to use an ATM system that has been used since 1946.
And what about rule EU261/2004, which protects consumers' interests in case flights are canceled and airlines have to reimburse tickets? It has been on the agenda for eight years but the discussion has changed since the pandemic. Since then, EU airlines have reimbursed €10 billion to customers, said Gallego. A4E calls on a modification of the ruling, which they say have never been meant for mass cancelations like that caused by the Covid-crisis. Or take the charging of airlines for all losses suffered by the Air Navigation Service Providers. As they aren't allowed to make losses, they will pass on €5.4 billion in additional costs to EU airlines. An absurdity, Lundgren ranted.
'Behind the scenes, airlines have enormous support'
So that's when Richard Quest put the question on the table: "Do airlines have to punch more to get their message across?" Ben Smith thinks that airlines and A4E are taken seriously: "It's clear that there are a lot of people that support us. A lot of governments do support us and do understand the value we bring to economies. Upfront, it may look to many people that we cannot catch a break but behind the scenes, we have enormous support."
Lundgren shared his view: "I do think we have a voice and that we achieve things. Creating a framework for the digital passport is an example on which Commissioner Valean and her colleagues have delivered upon. We are now looking at it being introduced. But you know this is quite complex with the number of countries we are facing with. They have different rules, different regulations, conditions, and viewpoints. That makes the challenge more clear but I definitely think that if it wasn't for the engagement we had, it wouldn't have got us where we are."
Reflecting on what airlines could do better, Carsten Spohr remarked: "There are two things where we as an industry can get better. One, we need to get the voices of our employees to get aligned with us in voicing their interests. In Germany, that is something the automotive industry and other industries together with the unions have organized well. We should learn from them."
He continued: "The second is that we need to join our forces together even though we are competing. Lufthansa's biggest competitor is Air France-KLM, but still, we agree on ninety percent on what we need to do. A4E was meant to solve the second item and that's what we having been doing for five years. Willie Walsh needs to strengthen IATA and the global voice."
Public perception of the industry is not positive
Not helpful is the public perception of the airline industry. Air travel is seen by more and more people as an industry that is not taking its position in the climate debate seriously. Environmentalist groups and politicians have been calling louder for strict sustainability measures and block airlines from returning to 'back to business" as before the pandemic. Sustainability efforts like sustainable aviation fuels (SAF) are seen as greenwashing.
The CEOs agreed that the industry has to do a better job explaining what it is doing, curbing perceptions. But as A4E managing director Thomas Reynaert said, the Destination 2050 roadmap presented last February makes very clear that Europe is serious about tackling climate issues. No industry is making bigger investments in efficient technology than the airline industry, remarked Michael O'Leary.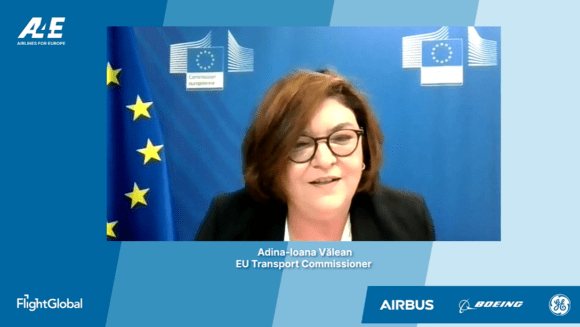 European Commissioner for Transport, Adina Valean, during the A4E Aviation Summit.
Is Airlines 4 Europe taken seriously enough? On a continent with 27 member states, politics take long. That's why European Commissioner Adina Valean was cautious in offering a solution to all points raised by the airline CEOs. She hailed the input from airlines to develop the green certificate to allow vaccinated and tested persons unrestricted travel, but a solution needs to be found for travelers from third countries with different rules.
EU261 reform up to next EC Presidency
On the reform of EU261, Valean had nothing to offer. "I know your concerns about the regulation EU261. We must update this regulation on passenger rights, in particular in the context of the pandemic. But it is on the next EC presidency to put the file back on the agenda." This means to say that until 2024, nothing will change. She added: "The reimbursement issue associated with the Covid crisis is not yet over. We will continue the dialogue with the member states mainly through the consumer protection arm we have to ensure that rules are respected."
On the Single European Sky, Valean said that the EC last September made a proposal to upgrade the regulatory framework and introduce improvements as soon as possible. "This ATM proposal is a no-brainer. It is very frustrating when I see that member states cannot commit to something like modernizing ATM. I am talking about modernizing in an age when we should talk about innovation. This is a sector that is so way behind. We talked about this with Transport ministers last week and I really hope they will take a bold stance to this and that they support or proposal that is not only needed from the point of congestion, or costs, but also for environmental purposes."
Slot rule likely to be waived next winter
Valean also indicated that the EC will likely extent the 80/20 slot waiver that will exempt airlines from using eighty percent of their slots at airports even during the pandemic with much-reduced operations. "It is clear traffic will not recover soon to pre-pandemic levels, so we cannot expect you to operate the normal 80 percent of the slots. So since we have the possibility through regulation to give further relief for normal slot rules, we probably adopt a new slot threshold for the winter of 21. We are currently tracking data on how traffic develops. At this stage, I cannot say when the 80/20 rule will apply again."
So, yes, airlines and their lobby groups are having an influence on decision-makers, but it seems to have got limited. Even five years since establishing a united voice, Airlines 4 Europe continued to struggle to get its messages across to government leaders while being viewed by the general public as biased and egocentric. Let's wait and see if the strategy changes until the next Aviation Summit in 2022. And if A4E is being taken more seriously then.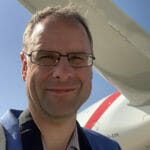 Active as a journalist since 1987, with a background in newspapers, magazines, and a regional news station, Richard has been covering commercial aviation on a freelance basis since late 2016.
Richard is contributing to AirInsight since December 2018. He also writes for Airliner World, Aviation News, Piloot & Vliegtuig, and Luchtvaartnieuws Magazine. Twitter: @rschuur_aero.