Asked about opportunities for more consolidation within the US airline market following the Covid-crisis, Delta CEO Ed Bastian remained coy during his July 15 investor's call: "I don't want to speculate." While not a consolidation as such, the strategic alliance agreement announced today by American Airlines and Jetblue shifts the poles in some way or another.
AA and Jetblue announced an agreement that should benefit travelers in the Northeast, in particular in New York and Boston, by offering codeshares, loyalty benefits, additional travel options, and new routes. And that's not just to please the traveler: "In addition, the relationship will accelerate each airline's recovery as the travel industry adapts to new trends as a result of the pandemic." So there is direct relationship to the post-Covid world that will look a bit different.
Jetblue has a strong position in and around its base in New York and in Boston, but so far lacks an international network except for limited routes into Mexico and Latin America. It still plans to expand this with services to London Heathrow in 2021 once it takes delivery of the Airbus A321XLR, which brings Europe within easy reach.
Over the years, American has lost share in the Northeast, in particular in New York. It has a lot to gain from a codeshare agreement that feeds Jetblue-passengers fly into its Philadelphia-hub.
Position New York to be reinforced
Jetblue will reinforce its position in New York by offering additional flights at La Guardia and Newark and grow its presence at JFK in order to better connect to American's international network. AA intends to launch new services to Tel Aviv and Athens, the latter from Summer 2021, and counteracting Emirates' fifth-freedom service from Greece. Next Winter, Rio de Janeiro will return as a season-only destination out of JFK.
Jetblue will also expand its services on the East and West Coast, and in the Southeast. Only last June, the airline announced thirty new routes to come online until October, including Fort Meyers, Tampa, and West Palm Beach plus Newark to Los Angeles. Last week, Jetblue said it will consolidate its position in California at LAX and shift more flights to there from its Long Beach-base.
In total, Jetblue customers will have access to 60 new American routes while American customers can tap into 130 new routes of Jetblue. The two airlines combined operate 489 daily services, of which 120 from the greater New York area.
"Pairing JetBlue's domestic network with American's international route map creates a new competitive choice in the Northeast, where customers are longing for an alternative to the dominant network carriers," Jetblue COO Joanna Geraghty says in a press statement. "This partnership with American is the next step in our plan to accelerate our coronavirus recovery, get our crewmembers and our aircraft flying again, and fuel JetBlue's growth into the future."
The US low-cost will not join the oneworld alliance of which American is a founding member and wishes to remain independent.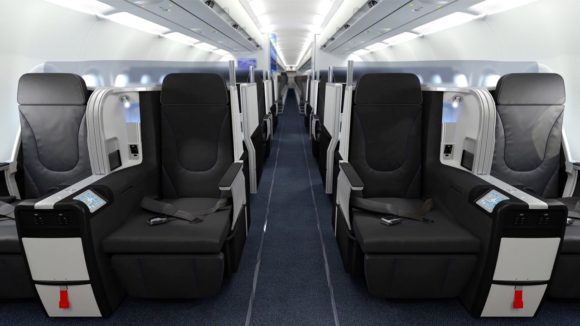 Jetblue is busy expanding its Mint Business Class product. (Jetblue)
The two airlines will adapt their cabin products, with Jetblue expanding its premium Mint Business Class across the fleet and American intending to operate more dual-class regional aircraft with First Class from early 2021. This should increase the availability of a premium product to travelers in the Northeast. Jetblue recently expanded Mint to nine additional routes, including Los Angeles and San Francisco.
Jetblue nor American has disclosed financial consequences of the new alliance but might do so at their upcoming Q2-results presentations next week. The alliance still needs government approval.
Alliance mirrors that with Alaska
The alliance mirrors American's identical agreement with Alaska Airlines, announced on February 13. The purpose of this alliance is to reinforce the position of both at the Westcoast. The difference is Alaska will join oneworld by the Summer of 2021, opening travel options to its client base to 1.200 destinations. Out of Alaska's Seattle hub, American will launch services to Bangalore (India) in October and to London Heathrow from next March, travel restrictions permitting.
American's Allied Pilots Association (APA) has been most critical about the alliance agreement, which it fears will come as a disadvantage to its members and has been ill-timed. APA refers to the announcement by American on Wednesday when it notified 25.000 employees including 2.500 pilots that their jobs could be lost after restrictions of the CARES act package will be lifted from October 1. At the same time, Jetblue's pilots have agreed on a non-furlough clause that should protect their jobs.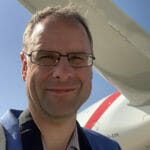 Active as a journalist since 1987, with a background in newspapers, magazines, and a regional news station, Richard has been covering commercial aviation on a freelance basis since late 2016.
Richard is contributing to AirInsight since December 2018. He also writes for Airliner World, Aviation News, Piloot & Vliegtuig, and Luchtvaartnieuws Magazine. Twitter: @rschuur_aero.