LATAM Airlines Group provided an update on the status of its Chapter 11 bankruptcy protection, which it filed with the New York South District court on May 26. Chapter 11 now includes LATAM Brazil, which was left outside the filing in May. Only LATAM Paraguay is still outside bankruptcy protection.
LATAM Chile, Peru, Ecuador, and Colombia are part of the first filing since May. LATAM Argentina, Brazil, and Paraguay were excluded, but on June 17 the Argentinian subsidiary ceased operations for an indefinite period.
The decision to include LATAM Brazil under Chapter 11 "is a natural step in light of the continuing Covid-19 pandemic and offers the best option to access the proposed Debtor In Possession (DIP) financing that will provide the tools to adapt to this new reality", the airline said in a statement. As all other subsidiaries under bankruptcy protection, the Brazilian branch will continue to operate.
Restructuring financing now totals 1.3 billion
LATAM entered Chapter 11 in May with the first tranche of $900 million in DIP, provided by its shareholders from the Cueto and Amaro families and Qatar Airways, which owns 10.03 percent of the group. In another tranche, LATAM has secured an additional $1.3 billion in DIP-financing that has been committed by Oaktree Capital Management and affiliates. The proposal is pending court review in the coming weeks. Another hearing is set for July 30.
With a combined $2.2 billion available to finance the restructuring, LATAM is optimistic it is able to complete this without the need for state aid from four of five countries involved. It only continues to negotiate with Brazil's National Bank for Economic and Social Development about an aid package, which it has been doing since May.
In its traffic update for June, LATAM reported a drop in Revenue per Passenger Kilometers (RPKs) of -95.2 percent and a reduction of capacity by -93.6 percent. Load factors were 61.4 percent, -21.6 percent compared to June last year.
Court documents released this week include stipulations concerning the returning of aircraft to owners and lessors. They include four Boeing 767-300ERs, one Boeing 777-300ER,  15 Airbus A319s, 45 A320ceo's, and four A321s.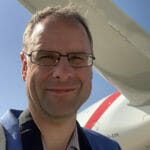 Active as a journalist since 1987, with a background in newspapers, magazines, and a regional news station, Richard has been covering commercial aviation on a freelance basis since late 2016.
Richard is contributing to AirInsight since December 2018. He also writes for Airliner World, Aviation News, Piloot & Vliegtuig, and Luchtvaartnieuws Magazine. Twitter: @rschuur_aero.