Leonardo delivered fewer airframe deliveries to ATR last year but reduced its loss on the turboprop program compared to 2021. Longer term, the Italian company continues to work on optimizing the production for ATR to reduce lead times and improve quality. Leonardo reduces ATR loss despite fewer deliveries.
Leonardo presented its FY22 results last Thursday. For our interest, we look at how ATR and the Aerostructures business performed that produces parts for Airbus and Boeing.
After ten deliveries to ATR in 2020, they were up to 31 in 2021 but down to 25 in 2022. These numbers include fuselages produced but not delivered. For example, Aerostructures delivered 24 fuselages, with one coming from inventory. In 2021, fifteen were produced. Yet, the financial result was better "thanks to improved profitability and the effects of contractual restatements during the year." EBITA was €-6 million compared to €-24 million in 2021. Revenues totaled €821 million versus €703 million.
Results Aerostructures also improve
Aerostructures improved EBITA to €-183 million from €-203 million. Order intake improved by 15.1 percent to €420 million from €365 million, thanks to the Airbus A220 and A321 programs. Revenues were up 7.5 percent to €475 million from €442 million, again thanks to Airbus and ATR.
Work for Boeing remained low as 787 production was at a very low rate last year as deliveries to customers were paused by Boeing until August. Leonardo delivered 22 fuselage sections and thirteen stabilizers compared to 28 and sixteen in 2021. As Boeing intends to slowly ramp up the rate to five aircraft per month later this year and ten in 2025, Leonardo is positive about the program. It expects to break even on the 787 from construction number 1.406. Boeing is currently at number 1.165.
For 2023, Leonardo says: "In 2023, an increase is expected in volumes linked to higher production rates under the Boeing (i.e. B787) and ATR programs, as is an improvement in profitability due to a reduction in the rate of the main production sites working at a lower capacity."
It adds: "Leonardo strengthens its market leadership in the regional transport segment with the best seller turboprop aircraft ATR, which may further benefit from the main competitor's decision to postpone the implementation of a new platform of similar engines" This is a direct reference to the decision of Embraer to temporarily suspend the development of its turboprop, as the Brazilians confirmed again last Friday.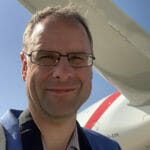 Active as a journalist since 1987, with a background in newspapers, magazines, and a regional news station, Richard has been covering commercial aviation on a freelance basis since late 2016.
Richard is contributing to AirInsight since December 2018. He also writes for Airliner World, Aviation News, Piloot & Vliegtuig, and Luchtvaartnieuws Magazine. Twitter: @rschuur_aero.