Lessor Dubai Aerospace Enterprise (DAE) has grown its portfolio by 36 aircraft by acquiring SKY Fund I from leasing asset manager SKY Leasing. The acquisition includes new-technology Airbus and Boeing aircraft, for which DAE itself has no current orders in backlog. The sale was completed on October 6. Lessor DAE grows thanks to SKY Leasing deal.
SKY Fund I is one of the portfolios of SKY Leasing, which has its headquarters in San Francisco but also has offices in Dublin and Singapore. SKY Leasing was established in 2004, while in 2019 it founded its fund management business with M&G Investments. On June 30, it managed 72 aircraft worth $3.5 billion, consisting of Airbus A320ceo and A320neo family aircraft, the A350-900, Boeing 737NG, MAX, and 787.
Over the years, SKY has had some 100 airline customers across the globe, with a strong presence in China/Asia, and North and South America. In HY1, it completed transactions worth $1.4 billion with airlines in Europe, Latin America, and Asia. Of this, 85 percent were for neo and MAX aircraft. In July, SKY Leasing announced a sale and leaseback with LATAM for ten A320neo family aircraft. The lessor also acquired and remarketed twelve MAX 8s for Aeromexico in January.
The transaction with DAE includes 36 aircraft that are leased to fourteen airlines. Of these, six airlines are new to the Dubai-based lessor. Ninety percent of the aircraft in SKY Fund I are new-generation. "This transaction will allow us to continue our growth trajectory and materially increase the proportion of new technology assets in our portfolio", said DAE CEO Firoz Tarapore. DAE expects to complete the transaction this quarter.
DAE's portfolio consisted of 390 aircraft on June 30, of which 297 were owned, 85 managed, and eight committed. They are on lease to 107 customers, with Emirates the biggest customer with a share of twelve percent. Of the committed aircraft, one is an Airbus A330neo and two are MAX. The owned/managed fleet includes thirteen A320neo family aircraft, four A350-900s, 27 MAX, and eleven 787s.
Adding the aircraft of SKY Fund I brings the fleet to some 425 aircraft. More importantly, it allows DAE to grow the number of new-generation neo and MAX aircraft without ordering them from Airbus and Boeing itself. In August 2021, Tarapore said during the HY1 presentation that DAE prioritized growth by sourcing aircraft on the secondary market instead of placing new direct orders. The last direct order was for fifteen MAX 8s in April 2021.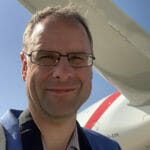 Active as a journalist since 1987, with a background in newspapers, magazines, and a regional news station, Richard has been covering commercial aviation on a freelance basis since late 2016.
Richard is contributing to AirInsight since December 2018. He also writes for Airliner World, Aviation News, Piloot & Vliegtuig, and Luchtvaartnieuws Magazine. Twitter: @rschuur_aero.